What a week at PASS Summit 2016! There were more than 4,000 attendees at the event in Seattle, Washington. After leveling up with all of you at PASS, we have a lot to share about our week at the event! You can also relive our week at PASS with us through our Flickr album.
This year, IDERA held our first ever pre-conference event. This day long training took place on Tuesday, before the official start of the show, where we gave attendees a comprehensive view of the IDERA product portfolio, dove into IDERA lifecycle management methodology, gave visibility into the future of IDERA and it's products, as well as discussed real-life customer applications and successes. The day ended with a Q&A with beer and wine!
There was tons to do at our Super Mario themed booth. From scheduled product demos to playing on an original Nintendo Entertainment System, attendees had no time to waste. We also gave away 3 sets of Bose headphones, 1 GoPro Session, and hundreds of Mario and Luigi ducks. Not only was booth 112 the talk of the exhibit, but IDERA won Most Creative Booth and Best Overall Booth!!
We held a live Geek Sync with Vicky Harp at our booth on Thursday the 27th. Vicky covered the care and feeding of SQL Server System Databases and gave tips on the configuration required to keep these databases running at their best. For those that were not able to attend the Summit, the Geek Sync was also streamed online for free. For a look at other upcoming free Geek Syncs IDERA has to offer, click here.
IDERA was a sponsor of the karaoke party on Tuesday night at Amber. We rocked out with live band and passed out the flashiest shades you've ever seen.
At the PASS Summit, we unveiled our new product portfolio and expanded community commitments. This year's Advisors and Community Educators (ACE) program members were announced. This program helps active members of the SQL Server community share knowledge by sponsoring travel to a variety of SQL Server conferences and events. The ACE class of 2017 consists of 7 awesome SQL community members. We had a great time talking to Summit participants about IDERA's new company and product acquisitions. Everyone was very excited and had many questions of what is to come with IDERA.
We were happy to see some familiar faces at the event and meet new people. Big thanks to everyone who made this event so great. See you next year!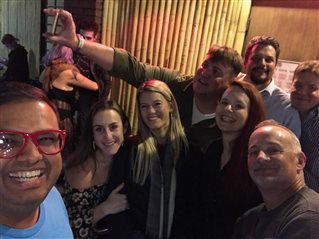 P.S. Want to win the Nintendo Entertainment System that was used at our booth?
Simply let us know you favorite PASS memory by commenting in this thread and then follow us on twitter. Not a community member? You can create an account here.
Contest runs until November 30th. At the end of the contest, 1 winner will be chosen at random to win the NES!
For more company updates and announcements, follow IDERA on Twitter, Facebook, LinkedIn and Google+.