Hello,
I am using aqua data studio visual analytics for visualization of some data. I have build multiple worksheets which are using same sql script. Then I have one dashboard where are about 5 graphs based on worksheets mentioned before. My problem is, that if I try to refresh data in the dashboard nothing happens. Only way how to get data to dashboard is to click on every single worksheet and then is dashboard filled by updated data.
Do you know this issue ? Is there any solution to this, since it is really annoying to click always on each of my worksheets in order to see actual data in the dashboard.
Many thanks in advance.
Response
Lisa Waugh 3 months ago
There is an Auto Refresh for workbooks
If you want to have your workbook refresh its data automatically every N number of seconds, minutes or hours, you can use the [Data > Auto Refresh…] menu.
This menu will launch the [Auto Refresh] dialog, allowing you to select your data source, input your Refresh Frequency and view when the next scheduled refresh will occur if you've already set an interval. When a refresh is triggered through Auto Refresh, it will update any associated extracts for the selected data source as well.
Auto Refresh will not take place if the [Refresh Frequency] check box at the top left of the dialog is unchecked. It must be checked to run.
Be aware that if you give a VIZX or VIZW with [Data > Auto Refresh…] enabled to someone, the refresh interval begins counting down as soon as they open the file. An error dialog will pop up the first time the scheduled refresh frequency is encountered if the connection associated with its extract cannot be found to perform the scheduled refresh.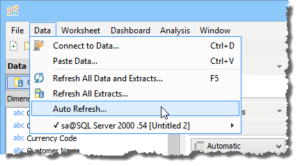 Thomas Conrad 3 months ago
Hi,
I gave this a try. I added data to the underlying database table dynamically and did a refresh from the dashboard. Each time the worksheets were updated. Have I missed something? Below is my simple example.
Thanks,
Tom