Idera, Inc. enjoyed participating as a sponsor for this year's Enterprise Data World event, run by the great folks at DATAVERSITY in San Diego during April 22-27, 2018. We highlighted our flagship data modeling and enterprise architecture suite, ER/Studio. Ron Huizenga presented 3 sessions during the event which were well-attended. We also handed out dozens of ducks and gave away two great prizes, an Amazon gift card and an Amazon Echo Show. What a great conference!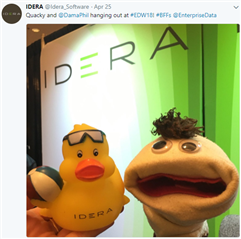 There were several common themes covered in the topics throughout the week, including Data Governance, Data Maturity, Data Architecture, and Big Data. Ron's general session focused on the topic of Data Maturity, and described how the journey can have a bumpy road if the organization isn't ready for a truly data-centric approach. In this session, he provided a frame of reference and indicators of relative maturity levels using different criteria, from starting with nothing to being fully optimized. Every business is an information factory, and everything we do is represented by data and process. A commitment to continuous improvement is essential to achieving higher levels of data maturity. But it all needs to start with defining your enterprise data architecture, so that the business fully understands what its data means and how it is used. You can't govern your data if you don't understand it!
For more information on establishing your data architecture to serve as the foundation for a data governance program, read Ron's recent blog post, Battle the Dark Side of Data Governance. Then check out our whitepaper, Fortify Your Data Governance with Enterprise Data Architecture, to go deeper into this topic.