Our next #SQLChat will take place Wednesday, September 7th at 11 AM CT with K. Brian Kelley (@kbriankelley). Corresponding with Brian's MSSQLTips presentation on the 8th, he will lead a Twitter conversation on Managing Multiple Servers.
This #SQLChat will allow members from the SQL community to discuss SQL Server's biggest topics with IDERA product experts, and have a chance to win a giveaway prize. This month's giveaway prize is a 20 oz. IDERA branded YETI Rambler!
Here is how to how to participate:
Log into your Twitter account on September 7 and search for #SQLChat at 11 AM CT. @Idera_Software will introduce the presenters with a welcome tweet and announce the first question based around our chosen topic using #SQLChat. We recommend using TweetChat to follow along with the conversation. Presenters will then answer question through their personal Twitter accounts and @Idera_Software will retweet responses. Community members who are participating in the chat will also answer questions, and presenters and community members can then interact with each other (reply, favorite, retweet). The next question will be presented and so on… The chat will end at 12 PM ***Presenters and participants must use #SQLChat within each tweet to become part of the chat and be entered to win the giveaway prize.
*Everyone who sends out a tweet with #SQLChat between 11 AM CT and 12 PM will be automatically entered into the giveaway. The winner will be chosen at random. Please be sure you are following @Idera_Software as the winner will be notified through direct message.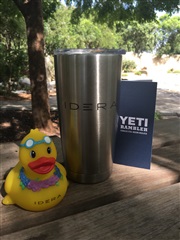 Need more information on managing multiple servers? Join IDERA for a free webcast on Monday, September 12, as Scott Walz and Bert Scalzo provide you with some suggestions for handling multiple platforms with a single user interface using DBArtisan. Register for the Webcast here: https://attendee.gotowebinar.com/register/5204046085249462273
About K. Brian Kelley: Brian Kelley is an author, columnist, and Microsoft SQL Server MVP focusing primarily on SQL Server security. He is a contributing author for How to Cheat at Securing SQL Server 2005 (Syngress), Professional SQL Server 2008 Administration (Wrox), and Introduction to SQL Server (Texas Publishing). Brian currently serves as an infrastructure and security architect. He has also served as a senior Microsoft SQL Server DBA, database architect, developer, and incident response team lead.