There is a growing need to integrate diverse databases with each other and with new data sources. This is accomplished through integration of data models and their associated metadata across the workflows associated with database design, development and integration. Data models that are grounded in meaningful business context can ensure ease of database development and data sharing.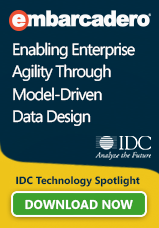 In this blog post, you can read an excerpt of the IDC Technology Spotlight paper, Enabling Enterprise Agility Through Model-Driven Data Design. This analyst report examines the growing importance of model-driven processes for database design and management. The paper specifically focuses on:
The role of business-driven metadata in database modeling, design, and development tools
Customer challenges for managing enterprise data and options to address them
How Embarcadero's ER/Studio solution addresses the needs of today's enterprise data landscapes

Experience the future of data modeling with ER/Studio
Only a professional data architecture tool can provide the comprehensive modeling and metadata environment that organizations need for complex and dynamic data landscapes. More than 10,000 companies have chosen todeploy ER/Studio to provide value to their data. Selection criteria was based on various factors including ease of use, ease of migration, support for big data platforms, metadata collaboration, and excellent technical support.
Download a free ER/Studio Trial  |  Learn more about ER/Studio  |  Contact Us