We are pleased to announce the general availability (GA) of IDERA ER/Studio 19.0
ER/Studio 19.0 is a major release with some huge new features. This release connects data architects closer into the data governance initiative with improved business glossary capabilities as well as deepening support for Microsoft platforms with Azure Synapse Analytics as a new platform and improved support for SQL Server.
The updates cover various versions of ER/Studio, outlined below:
ER/Studio Data Architect 19.0
Improvements to Data Architect were made in the following areas:
Improved business glossary support
Allow data architects access to business terms to map to data models. Leverage the knowledge of data architects in building a data catalog.
Microsoft Azure Synapse Analytics (new platform)
Core platform support. Allows our clients to exploit Azure Synapse and plan migration to the cloud.
Microsoft SQL Server
Support for many features of SQL Server so that clients can utilize features of the database all in one place. Supported features include:
Support for SQL Server 2019

Common table expressions in Views (CTE Views)

Filtered indexes

Column store indexes

Spatial indexes

Table and index compression

Temporal tables

Extended properties
PostgreSQL
Inheritance relationships. Convert constructs in the logical model to new features in PostgreSQL for inheritance.
Team Server/Repository 19.0
Improvements to Team Server were made in the following areas:
Advanced ontology support
Model the information of the organization used for data governance as a formal ontology allowing users to classify and find information better.
Graphical visualization
Improved user experience to navigate models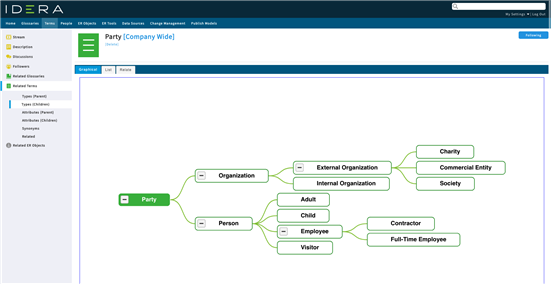 Business Term Harvesting
Kick start your data governance initiative by harvesting terms and ontological relationships from logical models.
Run on Azure SQL DB
Enable clients that are moving applications to the Azure cloud.
Business Architect 19.0
Updated Business Architect to work with the latest version of the repository.
Learn More
There is a video demonstrating the new features on YouTube and also in the Resource Centre. There will be a What's New democast on June 9th.
Detailed release notes can be found in our product documentation pages:
ER/Studio Enterprise Team Edition
Individual Products: