When companies are looking for a SQL Expert to help with performance challenges, they turn to Oregon-based consulting firm Lake IT for experienced SQL DBAs. The owner, Pete Chiboucas, has more than 30 years of experience in networking, IT, and server management. His team is often called in when companies have additional needs they can not address alone in SQL Server performance and management.
"Times have changed and many organizations do not have the SQL Server database administrators they used to. Many times, they do not know how many SQL Servers they have until something goes wrong or they want to make changes. Now it is up to the IT departments to handle performance issues without the insight or expertise they had before," said Chiboucas.
Read the 4-page case study "Consulting firm Lake IT leverages SQL Doctor to immediately pinpoint SQL Server performance issues" to learn what Pete's team does when it is called in.
Click here to download the case study.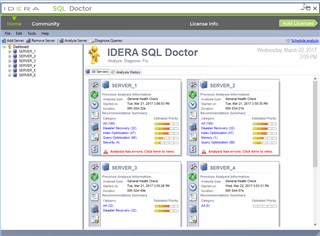 SQL Doctor tunes SQL Server performance, security, and disaster recovery via expert recommendations in physical, virtual, and cloud environments – including managed cloud databases. Unlike its competitors, it displays the health of all SQL Servers, generates ready-to-run SQL scripts to optimize and undo optimization, limits the analysis to specified databases, applications, and performance categories, and provides real-time, as-needed, and scheduled checkups.
For SQL Doctor:
Save almost 40% off the regular price when you purchase online. Take advantage of this limited time offer and pay only $400 per user with the first year of maintenance included! Hurry, this offer ends November 30th! Save Now!