We are pleased to announce the general availability of Uptime Infrastructure Monitor 7.8. Existing users may upgrade to this version through the Uptime Support Portal. New users may download the trial version from the Idera Website.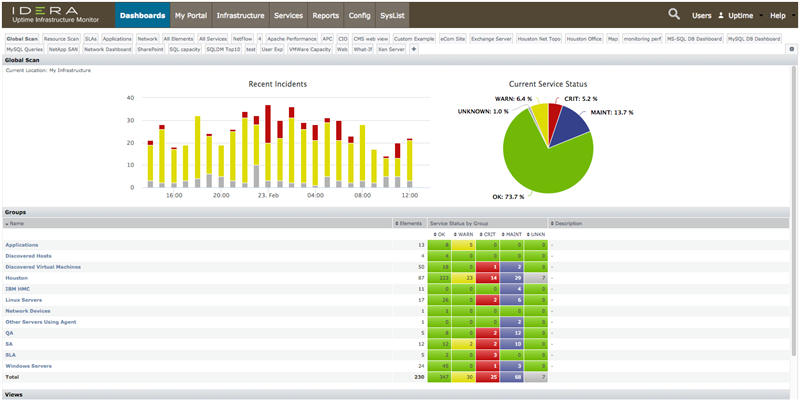 In Uptime Infrastructure Monitor 7.8, we have delivered over a hundred quality improvements including significant enhancements to the performance and reliability. Users should see overall response time improvements in the user interface as well as in the dashboard graphing and report generation.
Uptime Infrastructure Monitor 7.8 provides greater performance and stability for customers that choose to use MySQL 5.7 that is now shipped with the product. Uptime Infrastructure Monitor 7.8 also provides much better database repository consistency for customers choosing to use MSSQL or Oracle instead of MySQL.
This release also adds new monitoring for Hyper-V environments, opening Uptime up to a new set of customers. A summary of the new features and fixed issues in this release are available in the Release Notes.
What's New in Uptime Infrastructure 7.8?
Monitoring for Hyper-V virtual machines
Monitoring of Microsoft Hyper-V virtual machines directly through Hyper-V API is now supported in Uptime Infrastructure Monitor 7.8. This support mirrors most of the features already supported for VMware.
Added repository support for MySQL 5.7; Plus support for MySQL 5.6; MS SQL Server 2012 SP3, 2014 SP1 and 2016; Oracle Database 12c
Uptime Infrastructure Monitor 7.8 now ships with MySQL 5.7 which provides greater performance and stability. Uptime Infrastructure Monitor repository now supports MySQL 64-bit, versions 5.6 and 5.7; Microsoft SQL Server 2012 SP3, 2014 SP1 and 2016; plus Oracle 12c.
Added MONITORING STATION and AGENT support for SUSE Linux Enterprise Server 11.4 and 12.1
Uptime Infrastructure Monitor monitoring station and agent now supports SUSE Linux Enterprise Server versions 11.4 and 12.1.
Added AGENT support for AIX 7.1 TL4 and 7.2 TL0; Solaris 11.3; RHEL 6.8; Ubuntu 16.04
Uptime Infrastructure Monitor agent now supports:
IBM AIX 7.1 TL4, AIX 7.2 TL0

Oracle Solaris 11.3

Red Hat Enterprise Linux 6.8

Ubuntu Server 16.04
Updated Capacity and What If Capacity Gadgets
Improved style for edit gadget drop down; works better in smaller gadget spaces. Includes several bug fixes.
Hyper-V Capacity Planning and Capacity What-If:
General Improvements and Many, Many Quality Improvements
Support for SNMP v1 devices

Greatly improved SNMP monitor combines direct OID access (walk or get) as well as MIB based SNMP polling and endpoint mapping (putting a friendly name on things)

Improved web monitoring supports SNI for SSL connections and improved handling of server response codes

New *NIX agents and Linux agent installation support for systemd

Reporting improvements and bug fixes

Many improvements in connection handling create much improved reliability and performance across the solution
Questions or comments? Please let us know in the Uptime Infrastructure Monitor forum.
Resources: