As a database administrator and IT professional there are certain technical skills that one is expected to know – but what soft skills are important?
Angela Tidwell (@AngelaTidwell) will be leading a community discussion on soft skills for the DBA / Developer during our next #SQLChat on Wednesday, June 6 at 11 AM CT. Participating in this Twitter Chat will help you to advance in the workplace and build a more fruitful and promising career.
Communication skills, negotiation skills, personal experiences, and much more will be discussed. Joining our #SQLChat will give you the opportunity to explore hot industry topics with IDERA product experts and have a chance to win this month's giveaway prize – Joe Celko's SQL For Smarties Advanced SQL Programming: Fifth Edition and SQL Backup and Recovery Joes 2 Pros by Tim Radney.
Here is How To Participate:
Log into your Twitter account on June 6 and search for #SQLChat at 11 AM CT. @Idera_Software will introduce the presenters with a welcome tweet and announce the first question based around our chosen topic using #SQLChat. We recommend using TweetChat to follow along with the conversation. Presenters will then answer question through their personal Twitter accounts and @Idera_Software will retweet responses. Community members who are participating in the chat will also answer questions, and presenters and community members can then interact with each other (reply, favorite, retweet). The next question will be presented and so on… The chat will end at 12 PM ***Presenters and participants must use #SQLChat within each tweet to become part of the chat and be entered to win the giveaway prize.
*Everyone who sends out a tweet with #SQLChat between 11 AM CT and 12 PM will be automatically entered into the giveaway. The winner will be chosen at random. Please be sure you are following @Idera_Software as the winner will be notified through direct message.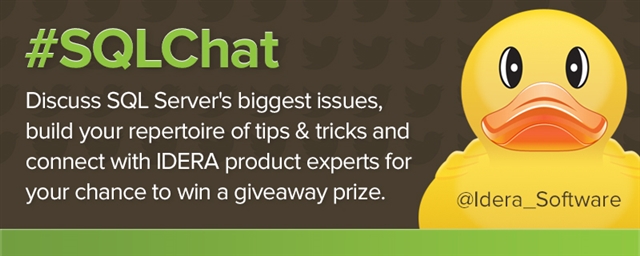 About Angela: Angela Tidwell serves as the Marketing DBA for Procure SQL, LLC with a specialty for database performance monitoring and tuning. She's worked for clients with various architectures and volume, presenting various types of issues to be resolved in order to keep their business thriving. When she's not helping her clients resolve their biggest problems, Angela supports SQL Saturdays across the country and blogs about her experience in order to help other data professionals grow. Armed with a zest for life and quick wit; her experiences and unique views on the world provide the backdrop for a plethora of great stories.