SQL Server indexes can improve SQL Query performance when done correctly – but how do you create an optimal set of indexes?
Join IDERA (@Idera_Software) and host Eric Blinn (@SQL2TheSequel) on Wednesday June 26 at 11AM CT for a community discussion on SQL Server indexes. Eric will be leading the chat on building useful database indexes, talking about the benefits and disadvantages of different index setups and how to find the best balance between too many and too few indexes. Participants can use #SQLChat to join the conversation on Twitter.
Joining this Twitter Chat will give you the opportunity to explore hot industry topics with the community and IDERA product experts and have a chance to win a prize. This month's giveaway prize is a $50 Amazon.com gift card!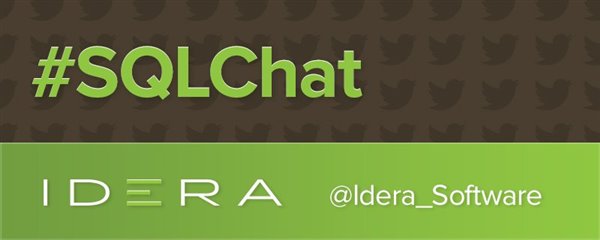 Here is How To Participate:
Log into your Twitter account on June 26 and search for #SQLChat at 11 AM CT. @Idera_Software will introduce the presenter with a welcome tweet and announce the first question based around our chosen topic using #SQLChat. Presenters will then answer questions through their personal Twitter accounts and @Idera_Software will retweet responses. Community members who are participating in the chat will also answer questions, and presenters and community members can then interact with each other (reply, favorite, retweet). The next question will be presented and so on… The chat will end at 12 PM ***Presenters and participants must use #SQLChat within each tweet to become part of the chat and be entered to win the giveaway prize.
*Everyone who sends out a tweet with #SQLChat between 11 AM CT and 12 PM will be automatically entered into the giveaway. The winner will be chosen at random. Please be sure you are following @Idera_Software as the winner will be notified through direct message.
About Eric: Eric Blinn has been a SQL Server DBA in the legal, software, transportation, and insurance industries for over 10 years. Currently he is the Sr Data Architect for Squire Patton Boggs, a leading global provider of legal services with 47 offices in 20 countries. He has been a presenter at PASS Summit, SQLSaturdays, the in.sight transportation conference, and the Ohio North SQL Server User's Group. He is incredibly proud and humbled to be a 2018-2019 IDERA Ace and has co-authored two IDERA Whitepapers. Look for Eric on twitter @SQL2TheSequel or his personal SQL Server blog, https://ericblinn.com/.