It's that time again!
Our next #SQLChat will take place Wednesday, March 15 at 11 AM CT with Mike Fal. Mike will be leading a discussion on how to migrate to the cloud.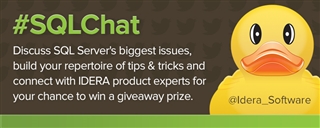 Whether your company is considering Azure, Amazon Web Services, the Google Cloud, or any of the other providers, you will need a cloud strategy. However, with the cloud comes a different way of thinking.
Mike will discuss the different options for cloud migration, that include Platform-as-a-Service, hybrid cloud footprints, disaster recovery, and many other facets of using the cloud. Participants will discuss what you should consider as you navigate your own cloud migration strategy.
This #SQLChat will allow members from the SQL community to discuss SQL Server's biggest topics with IDERA product experts, and have a chance to win a giveaway prize. This month's giveaway prize is $100 Gift Card to Spotify which you can exchange for membership and more!
(photo taken from newsweek.com)
Here is how to how to participate:
Log into your Twitter account on March 15 and search for #SQLChat at 11 AM CT. @Idera_Software will introduce the presenters with a welcome tweet and announce the first question based around our chosen topic using #SQLChat. We recommend using TweetChat to follow along with the conversation. Presenters will then answer question through their personal Twitter accounts and @Idera_Software will retweet responses. Community members who are participating in the chat will also answer questions, and presenters and community members can then interact with each other (reply, favorite, retweet). The next question will be presented and so on… The chat will end at 12 PM ***Presenters and participants must use #SQLChat within each tweet to become part of the chat and be entered to win the giveaway prize.
*Everyone who sends out a tweet with #SQLChat between 11 AM CT and 12 PM will be automatically entered into the giveaway. The winner will be chosen at random. Please be sure you are following @Idera_Software as the winner will be notified through direct message.
About Mike: Mike Fal(@mike_fal) is a specialist in data management technologies. As a community advocate, public speaker, and blogger, Mike is a practicing thought leader for data and automation. He is passionate about DevOps and data, building platforms to optimize, protect, and use data efficiently. Since 1999, Mike has been working in the database field, focusing primarily on SQL Server and specializes in automating data solutions to improve the reliability and efficiency of his environments. He currently works as a SQL Server Consultant for UpSearch, LLC and has been caught playing trombone in public on more than one occasion.
Mike will also be presenting this topic on our March 22 Geek Sync. You can find out more and register for the Geek Sync here.