Idera provides many software solutions, some of which are installed on servers, others on user workstations. In this post, we will see the different kinds of licenses that are available for the users.
From our website, you can download our softwares to test them in your environment. When you go to a product page, you can get a trial version by clicking on a link like this one:

To use your trial version, for some products, including ER/Studio and DB PowerStudio products, you will receive an email containing a serial number that allows you to register your solution. After installing the software, when you launch it for the first time, a registration wizard automatically opens to allow you to type the serial number and your credentials: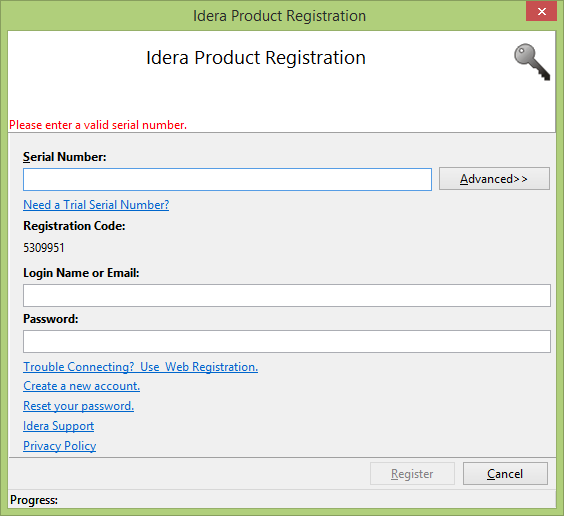 When the registration is successful, the wizard automatically closes and the product starts.
However, if an error occurs, an error message is displayed where we currently see in the previous screenshot: Please enter a valid serial number.
You also notice the different links available in the wizard which can be helpful:
Idera offers 3 different kinds of licenses:
Workstation (WS): a license which is installed on a workstation, using a serial number and an Idera account (a trial version is a license of type Workstation).
Network Named User (NNU): an NNU license allows the same user to install the product on multiple machines. The licenses are hosted on a license server installed on your network and reachable from the machines where the product is installed. An NNU license is assigned for a given user.
Concurrent User (CCU): a concurrent license is also installed on a license server. Several users can share it; the first arrived is the first served until the total number of its licenses is exhausted.
These 3 types can perfectly coexist in the same product deployment. Daily and stationary users can install Workstation licenses, while users who are moving and have a desktop and a laptop use NNU licenses. Users who are using the product from time to time share a pool of Concurrent licenses.
NNU and CCU licenses can be hosted on the same license server. It can be installed on a Windows or Linux server.
For more information on the server itself, you can browse its documentation.
In the table below, I list some pros and cons regarding the different types:
Pros
Cons
WS

Once registered, the solution doesn't need to reach a server to work.

When you want to install your solution to a new machine, or transfer your license to a co-worker, you have to contact Idera Support.

NNU

You can setup the solution on several machines for a single user without purchasing additional licenses (there is a limit of three simultaneous connections per user and product).
You can reassign licenses from previous to new users without contacting Idera Support.

A license server is mandatory.
You have to setup your NNU licenses with the Windows logins of your named users.

CCU

Easier administration.
You don't need to specify Windows user logins to use your licenses.
You don't need to contact Idera Support to release or reassign licenses.

A license server is mandatory.
This type of license is more expensive than the other two, but may simplify licensing.