Come May 25, 2018, all companies that work with EU data will need to comply with GDPR – this covers about 92% of companies in the US! If you don't comply, you can be fined up to 2 million euros or up to 4% of your company's revenue.

Join us for our next #SQLChat on Wednesday, March 7 at 11 AM CT with Kellyn Pot'Vin-Gorman (@DBAKevlar). Kellyn will be leading a community discussion on the European Union's General Data Protection Regulation (GDPR). This Twitter Chat will highlight best practices and examples for how to master GDPR challenges and be GDPR compliant ahead of the deadline and beyond. Opinions, personal experiences, and tips & tricks will be shared!
This #SQLChat will allow members from the SQL community to discuss SQL Server's biggest topics with IDERA product experts, and have a chance to win this month's giveaway prize – a Levoit Air Purifier!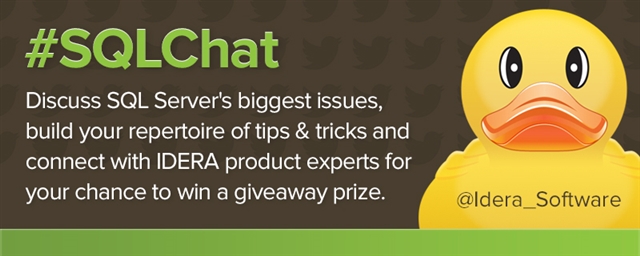 Here is How To Participate:
Log into your Twitter account on March 7 and search for #SQLChat at 11 AM CT. @Idera_Software will introduce the presenters with a welcome tweet and announce the first question based around our chosen topic using #SQLChat. We recommend using TweetChat to follow along with the conversation. Presenters will then answer question through their personal Twitter accounts and @Idera_Software will retweet responses. Community members who are participating in the chat will also answer questions, and presenters and community members can then interact with each other (reply, favorite, retweet). The next question will be presented and so on… The chat will end at 12 PM ***Presenters and participants must use #SQLChat within each tweet to become part of the chat and be entered to win the giveaway prize.
*Everyone who sends out a tweet with #SQLChat between 11 AM CT and 12 PM will be automatically entered into the giveaway. The winner will be chosen at random. Please be sure you are following @Idera_Software as the winner will be notified through direct message.
About Kellyn: Kellyn Pot'Vin-Gorman is a member of the Oak Table Network, an Oracle ACE Director Alumnus and an Idera ACE in the Microsoft Community. Kellyn is the Technical Intelligence Manager for Delphix and is known for her extensive work with Oracle's automation tools, Delphix database virtualization and environment optimization tuning. Her blog, http://dbakevlar.com and social media activity under her handle, DBAKevlar is well respected for her insight and content.