What does IDERA love as much as our customers? Rubber Ducks!
National Rubber Ducky Day is Wednesday, January 13. To help celebrate this holiday we are sending you our newest IDERA duck for free!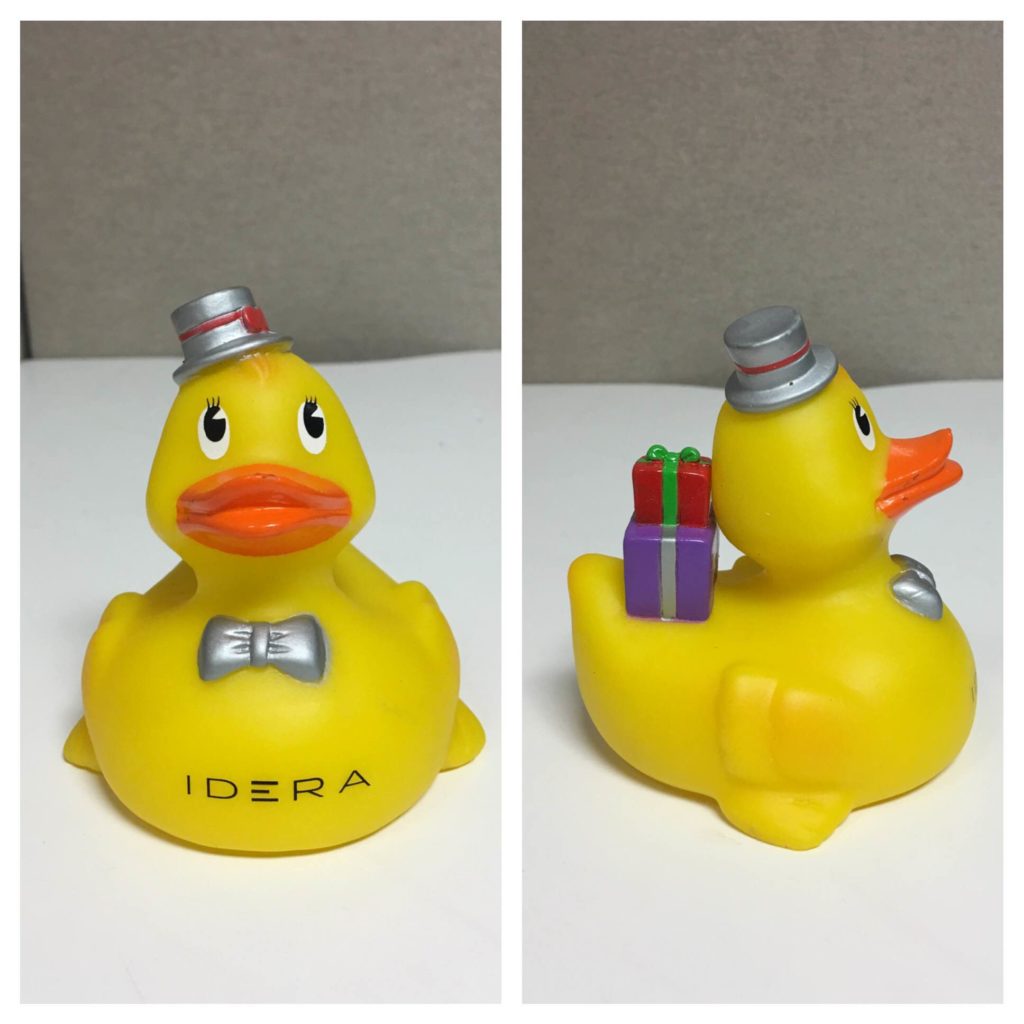 All you have to do is post a picture of your favorite IDERA duck, tag us (@Idera_Software) and use the hashtag #NationalRubberDuckyDay. Everyone who participates on January 13th will receive a brand-new, New Years themed IDERA duck.
That's right, no luck needed. Participate and you will win!
You must be following us @Idera_Software to win, as we will contact you through direct message to collect mailing information. See you on the 13th!
For more IDERA updates and announcements follow us on Twitter, Facebook, LinkedIn and Google+.
IDERA GIVEAWAY OFFICIAL RULES
This giveaway is sponsored by IDERA, Inc. ("IDERA"), a Texas corporation located at 2950 North Loop Freeway West, Suite 700, Houston, Texas 77092. These are the official rules ("Official Rules"), which govern your participation in this giveaway ("Giveaway").
THERE IS NO PURCHASE NECESSARY TO ENTER OR RECEIVE A FREE GIFT (DEFINED BELOW). THIS GIVEAWAY IS VOID WHERE PROHIBITED OR RESTRICTED BY LAW. VOID IN ANY STATE WHERE LOCAL REGISTRATION LAWS WERE NOT COMPLIED WITH.
BY PARTICIPATING, YOU AGREE TO THESE OFFICIAL RULES. ALL DATA REQUESTED AT REGISTRATION, GIFT FULFILLMENT OR AT ANY OTHER TIME IN CONNECTION WITH THIS GIVEAWAY MUST BE ACCURATE. IF INACCURATE INFORMATION IS SUPPLIED, IT WILL RESULT IN YOUR DISQUALIFICATION FROM THE GIVEAWAY AND PREVENT THE AWARDING OF THE FREE GIFT TO YOU. You represent and warrant that by participating in this Giveaway you are not violating any law or policy of your employer.
How to enter
This Giveaway is open to any IDERA customer or any person who follows IDERA's Twitter handle [@Idera_Software], tweets a picture of their favorite IDERA duck and uses the hashtag #NationalRubberDuckyDay during the Promotion Period (defined below).
Promotion Period
The promotion period for the giveaway begins at 12:00 AM (CDT) on January 13, 2016 and ends at 11:59 PM (CDT) January 13, 2016 ("Promotion Period").
Eligibility Requirements
Giveaway is open only to legal residents of U.S., who are 18 years or older at the date of entry. Employees of IDERA, its subsidiaries, affiliates and its promotion agencies, as well as the immediate family and household members of each such employees, are not eligible. This Giveaway is subject to all applicable federal, state, territorial, municipal, and local laws and regulations.
Free Gift and Delivery Method
Everyone who successfully follows IDERA's twitter handle[@Idera_Software], tweets a picture of an IDERA duck, and uses the hashtag #NationalRubberDuckyDay will receive a "New Years" themed IDERA Rubber Duck in the approximate retail value of two dollars each ($2) ("Gift"), while supplies last. The Rubber Duck will be mailed to the winners within two weeks of the end of the contest.
General Release/Conditional Limitation of Liability
BY ENTERING THIS GIVEAWAY, PARTICIPANTS AGREE TO INDEMNIFY, RELEASE, DISCHARGE AND HOLD HARMLESS IDERA, ITS SUBSIDIARIES, SHAREHOLDERS, DIRECTORS AND EMPLOYEES AND EACH OF THE SOCIAL MEDIA PROVIDERS USED BY IDERA TO PROMOTE THE GIVEAWAY (INCLUDING, BUT NOT LIMITED TO, FACEBOOK, GOOGLE, LINKEDIN AND TWITTER) FROM ANY AND ALL LIABILITY AND/OR DAMAGES, WHETHER DIRECT OR INDIRECT, WHICH MAY BE DUE TO OR ARISE OUT OF PARTICIPATION IN THIS GIVEAWAY OR ANY PORTION THEREOF, OR THE ACCEPTANCE, USE/MISUSE OR POSSESSION OF THE GIFT. NOTHWISTANDING THE FOREGOING, IN THE EVENT THAT THE PRECEDING RELEASE IS DETERMINED BY A COURT OF COMPETENT JURISDICTION TO BE INVALID OR VOID FOR ANY REASON, THE ENTRANT AGREES THAT, BY ENTERING THIS GIVEAWAY, (I) ANY AND ALL DISPUTES, CLAIMS, AND CAUSES OF ACTION ARISING OUT OF OR IN CONNECTION WITH THIS GIVEAWAY, OR ANY GIFTS AWARDED, SHALL BE RESOLVED INDIVIDUALLY WITHOUT RESORT TO ANY FORM OF CLASS ACTION; (II) ANY CLAIMS, JUDGMENTS AND AWARDS SHALL BE LIMITED TO ACTUAL OUT-OF-POCKET COSTS INCURRED, IF ANY; AND (III) UNDER NO CIRCUMSTANCES WILL ANY ENTRANT BE PERMITTED TO OBTAIN ANY AWARD FOR, AND ENTRANT HEREBY WAIVES ALL RIGHTS TO CLAIM, PUNITIVE, INCIDENTAL OR CONSEQUENTIAL DAMAGES AND ANY AND ALL RIGHTS TO HAVE DAMAGES MULTIPLIED OR OTHERWISE INCREASED AND ANY OTHER DAMAGES, OTHER THAN DAMAGES FOR ACTUAL OUT-OF-POCKET EXPENSES.
Disqualification
Entries generated by facsimile, script, macro or other automated means, that have been tampered with or altered, or that are stolen, postage due, misdirected, garbled, delayed by computer transmissions, incomplete, illegible, inaccurate, corrupted, lost, late or damaged, are all void and will not be accepted. All entries must be individually completed and no automated entries, mass entries, reproductions or photocopied entries will be accepted. One entry per person. IDERA, its participating gift partners, and service providers are not responsible for any problems or technical malfunction of any network or telephone lines, incorrect or inaccurate transcription of entry information, or for any human error, technical malfunctions, lost/delayed data transmission, omission, interruption, deletion, defect, line failures of any telephone network, computer equipment, software, inability to access any web site or online service, or any other error or malfunction, or late, lost, illegible or misdirected entries. If, for any reason, the Giveaway is not capable of running as planned, including infection by computer virus, bugs, tampering, unauthorized intervention, fraud, technical failures, or any other causes beyond the control of IDERA which corrupt or affect the administration, security, fairness, integrity or proper conduct of this Giveaway, IDERA reserves the right at its sole discretion to void the entries at issue and/or terminate the Giveaway and to award the free Gift using all eligible entries received as of the termination date. If the Giveaway is terminated due to tampering or technical difficulties prior to its expiration date, notice will be posted at IDERA's website. IDERA reserves the right, in its sole discretion, to disqualify any entrant that tampers with the operation of or abuses any aspect of this Giveaway or violates the Official Rules of this Giveaway.
Governing Law
This Giveaway and the rights and obligations of the entrants will be governed and controlled by the laws of the State of Texas, USA, and any disputes shall be referred to the exclusive jurisdiction of the State of Texas, US courts.
Privacy
Personal information of entrants will be used to enable the Gift to be sent out. In addition, IDERA will use your personal information in accordance with the terms and conditions set forth in IDERA's privacy policy available at http://www.idera.com/legal/privacystatement. You agree to the processing of your personal information for the purposes and in the manner set out above.