We had a lot of fun hosting TWO #SQLChats on Twitter last week!
Vicky Harp (@vickyharp) lead our first conversation Wednesday, October 12 at 11 AM CT. Training and Professional Development Techniques were discussed. Attendees seemed to agree that virtual chapters and user groups are a great resource if you are unable to attend events, and networking is an important part of training and growing your career.
Participants also agreed that PASS Summit is one of their favorite SQL conferences to attend. You can learn more about what to expect from IDERA at PASS Summit this year in our blog.
If you missed this #SQLChat check out question highlights below: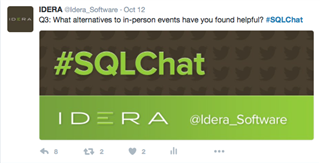 Joy Ruff (@jfruff) hosted our second #SQLChat of the week on Thursday, October 13. This was the first combined Geek Sync and #SQLChat that IDERA has hosted. By combining these two events, attendees were able to share their own experiences and opinions regarding data modeling, after Joy's presentation had ended.
Those who participated seemed to agree that unfortunately some companies view data modeling as an unnecessary and time-consuming step. However, models are more than just a diagram or documentation.
If you missed this #SQLChat check out question highlights below:





Our next combined Geek Sync and #SQLChat will take place Thursday, October 27 at 2 PM CDT with Vicky Harp (@vickyharp). Vicky will cover the basics on how to create and work with temporal tables, including the new FOR SYSTEM_TIME query clause. The #SQLChat after the presentation will allow attendees to expand on this via Twitter, and discuss some of the ways that they may or may not fill a need in your environment. Those who participate will also be entered to win a giveaway prize!
Register for this Geek Sync here: https://attendee.gotowebinar.com/register/1731937899200591105
We hope to see you during our next #SQLChat!