We are pleased to announce the general availability of SQL Diagnostic Manager Pro including SQL Workload Analysis 1.5 . Existing users may access through the Idera Customer Portal. New users may download the trial version from the Idera Website. This SDM Pro release combines the complementary capabilities of SQL Diagnostic Manager and SQL Workload Analysis 1.5.
IDERA SQL Workload Analysis capabilities include:
Detailed wait state analysis for applications and transactions

Multi-faceted dashboard with drill-down into top wait categories, SQL statements, applications, databases, machines, and logins

Automatic analysis of query plans for faster tuning

Integration with the Common Web Framework and Diagnostic Manager for streamlined problem analysis and resolution
Multi-faceted, multi-dimensional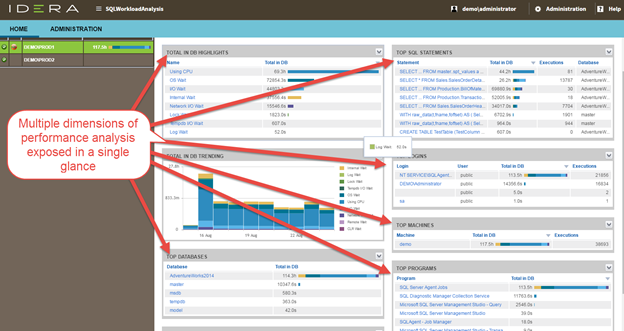 Where alternative solutions make you navigate the interface to get the appropriate information, SWA presents an overview of top consumers for a given time period across six dimensions at once.
And the interface is designed with collapsible widgets that can be arranged to your preferences for comparison and interpretation.
Integrated Solution
SQL Workload Analysis is integrated in the IDERA Hub for common integrated access to Diagnostic Manager and other IDERA SQL Server products.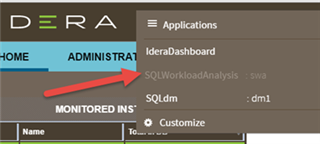 SQL Diagnostic Manager can be launched directly in context from the overview.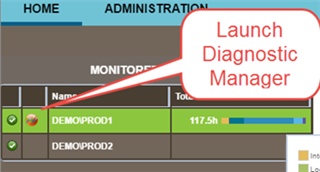 Drilldown for Problem Isolation
Select any of the analysis dimensions from the widgets to isolate the problem even further.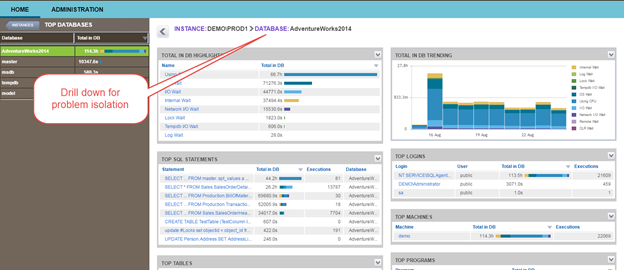 Wait Category Drilldowns
Each wait category has an associated drilldown with exactly the information you need to analyze that sort of bottleneck in your SQL Server.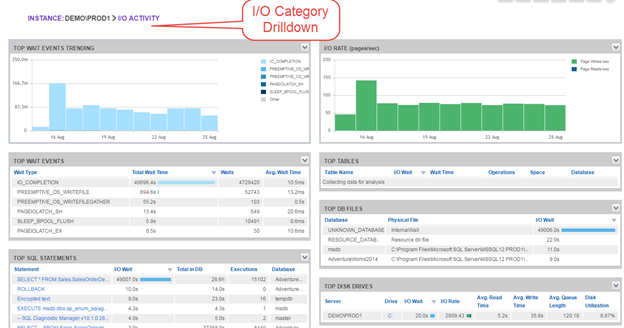 Automatic Analysis of Top SQL
Of course, the ultimate destination of most root cause investigations will lead to particular SQL transactions causing all the trouble. SQL Workload Analysis evaluates the execution plans of a selected statement to provide findings to aid in your tuning and next steps.
It also shows you how that particular statement has been trending, which objects it is using and machines and logins are using it.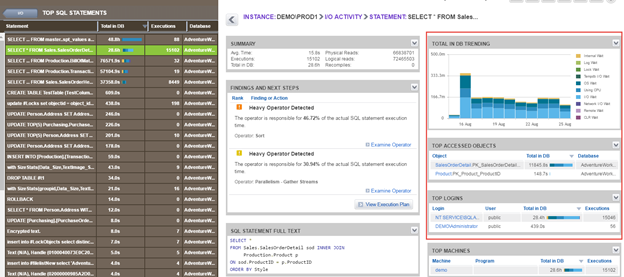 Drilldown further to isolate problems in the execution plans.

Top Tables, Objects, Indexes, etc.
Those are just a few of the investigations facilitated in a few clicks by SQL Workload Analysis by IDERA.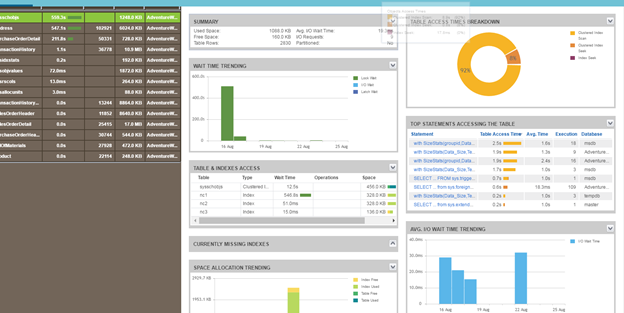 Questions or comments? Please let us know in the SQL Diagnostic Manager forum.