When we review the evolution of new data architecture and development methodologies, along with the corresponding changes in corporate culture, we can see that there have been numerous approaches over the years. In the earlier days of traditional / waterfall processes for data modeling, there was a more rigid organizational structure with data modelers, programmers, and system analysts. Agile methodologies emerged in an attempt to address the shortcomings of traditional practices. The focus changed to iterative delivery from self-organizing teams that eliminated traditional bureaucracy.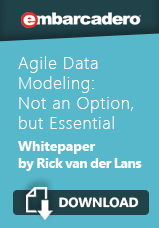 Many organizations have successfully adapted to a hybrid approach, leveraging agile practices for operational execution, within a larger enterprise architecture and project delivery framework. This team approach to solution delivery emphasizes the importance of principles of the methodology along with the technology framework and architecture toward achieving the goals.
From a data architecture perspective, a modeling tool that allows granular check-out and check-in of specific objects gives a data architect the flexibility to work on a subset of the model for a specific task or milestone without negatively impacting the rest of the project. Advanced compare-and-merge capabilities allow updates to be quickly and easily integrated into the core model when the task is complete. These capabilities enable data professionals to streamline the model enhancements.
______________________________________________________________________________
Want to learn about ER/Studio?
Try it
for yourself free for 14 days!
About the Author:
Ron Huizenga is the Senior Product Manager for the ER/Studio product family. Ron has over 30 years of experience as an IT executive and consultant in Enterprise Data Architecture, Governance, Business Process Reengineering and Improvement, Program/Project Management, Software Development and Business Management.