Open source and free data modeling tools provide less mature data-driven organizations with the means to undertake data modeling projects with limited scope.
Ultimately, organizations serious about data-driven business will outgrow open source and free data modeling tools due to their limitations.
But for those that want to ease their way into data-driven business, digital transformation, and data modeling projects, open source and free data modeling tools are a great starting point.
Jump to: Top 5 Open Source and Free Data Modeling Tools list …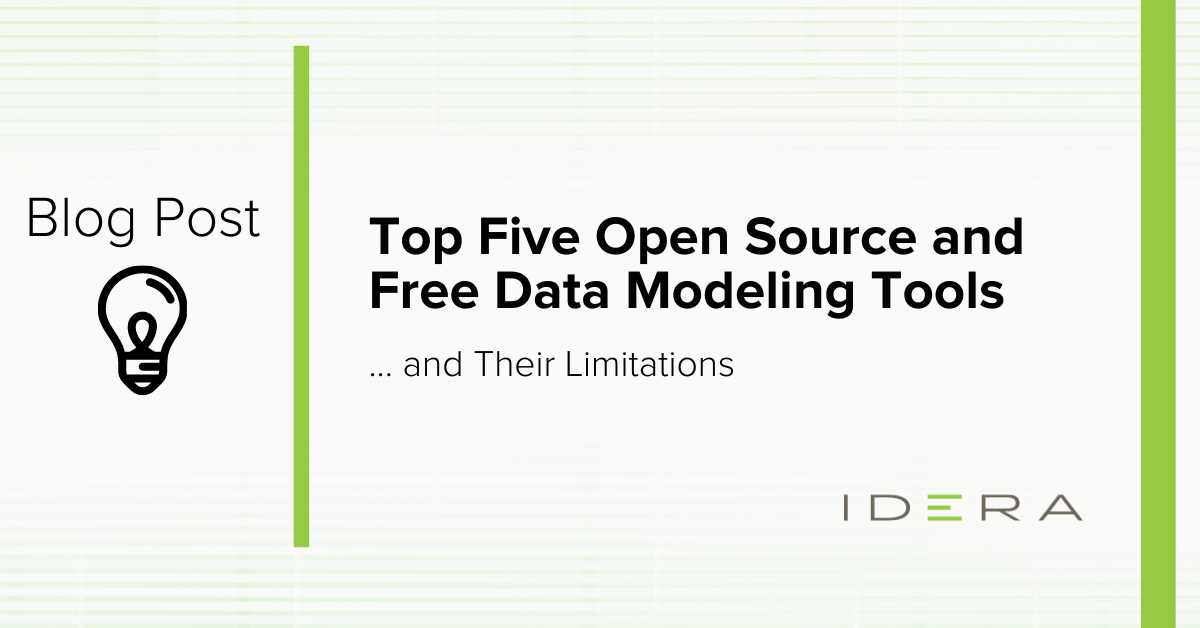 What Is a Data Modeling Tool?
Data modeling refers to the process of creating visual representations – data models – of an information system such as a database. They are instrumental in understanding how databases are constructed and as an aid to their development.
Data modeling tools are software applications used to assist teams in creating valid data models.
While it may be possible to manually model a very simple database, as the system's complexity increases, teams need to take advantage of data modeling tools to get the job done. Data-driven organizations can achieve substantial benefits from using the right data modeling tools.
With the right data modeling tool, organizations have the ability to perform quality data modeling at scale – a critically important capability for data-driven organizations.
Data modeling tools and data modeling are essential components of data governance initiatives designed to use information efficiently throughout all parts of a company.
Open Source and Free Data Modeling Tools: What You Need to Know
As with many other types of software solutions, there are free and open source data modeling tools on the market as well as commercial products.
Some organizations may opt to try the more economical route associated with free data modeling tools. In certain cases, these tools may be sufficient, but their limitations may call for the more robust functionality of a commercial software offering.
Open source and free data modeling tools can also work as a proof of concept, to help pitch the value of data modeling investment up the chain.
However, organizations considering this should note that paid-for, leading data modeling tools now offer easy to install and start free trials.
Such free trials include a fully-featured version of the product that organizations can make use of for a limited time.
The Best Open Source and Free Data Modeling Tools
Here are some of the best free and open source data modeling tools available:
Edraw Max's Database Model Diagram
This data modeling tool offers a free version as well as paid packages that provide additional functionality. It features drag and drop capabilities making it user-friendly. The tool includes automated features that make it easy to customize data models.
DBDesigner 4
DBDesigner is an open source tool optimized for use with MySQL databases. It features a user-friendly interface that makes it easy to access the tool's powerful features and functions.
Database Deployment Manager
Database developers looking for a simple modeling tool may like the features of this free solution. Users can create entity-relationship diagrams and validate database design.
Draw.io
This free tool is designed for users new to data modeling. It works as an extension to web browsers and can be used on mobile devices as well. The tool provides pre-made templates and is more flexible than other free solutions.
Lucidchart
Users wishing to engage in data modeling without downloading any software will enjoy the features of Lucidchart. The tool provides a simple vehicle for collaboration and visualization that helps teams understand their data resources.
Limitations of Free Data Modeling Tools
The main reason organizations wind up dissatisfied with free data modeling tools is due to the solutions' limitations.
A free tool may offer an excellent introduction to data modeling but will not be sufficient to meet the needs and expectations of a team of developers in a data-driven enterprise.
Following are some of the ways commercial products outperform free alternatives:
Extensive feature set – Free tools do not furnish the advanced features required to perform effective data modeling in a production environment. For example, free tools may not be adequate to investigate enterprise data resources to determine sensitive elements that need to be protected for regulatory compliance.
Enhanced collaboration – Developing data models is often a collaborative effort that demands input from multiple teams. Commercial modeling tools provide features designed to promote collaboration such as shared repositories and change control functionality.
Limited modeling capabilities – Free tools may supply a limited number of modeling options. As the complexity of the modeled systems increases, the simple models available in free tools will not do the job.
With the right data modeling tool, organizations can leverage all three types of data model, and progress data modeling projects through the three stages of data modeling: conceptual, logical, and physical.
Commercial Data Modeling Tools
Once the decision is made to employ data modeling, many teams will not want to be constrained by the limits of free solutions.
IDERA offers teams several full-featured data modeling solutions that address the requirements of data-focused organizations.
Aqua Data Studio is a comprehensive integrated development environment (IDE) that provides database developers with a plethora of features. Creating entity-relationship (ER) diagrams and performing data modeling are just two of the benefits of this versatile tool.
Teams interested in getting the most value from their data resources should take advantage of the free trials available for these data modeling products.
Try Aqua Data Studio for FREE.
ER/Studio Data Architect offers teams a valuable tool to document data resources and design new systems. It enables the creation of a data catalog to support data governance and can discover and document existing assets.
Try ER/Studio Data Architect for FREE.
Business Architect facilitates the design of conceptual models to align with an organization's business objectives. The tool identifies sensitive data resources for compliance purposes. It maps the relationships between people, processes, and data.
Try ER/Studio Business Architect for FREE.
The Enterprise Edition of ER/Studio offers an excellent platform for collaboration and innovation with data modeling.
The tool ensures consistency between data models by coordinating changes across all stakeholders. It enables organizations to lay the foundation for data governance and build an enterprise business glossary.