It's that time again! Participate in our April #SQLChat for your chance to win a new Herschel Supply Co. Backpack!
Our next #SQLChat will take place Wednesday, April 5 at 11 AM CT with Jim Donahoe (@SQLFlipFlopsDBA). Jim will be leading a discussion on Career Satisfaction within the DBA space.
What made you decide to become a data professional? What's the difference between career and personal satisfaction in the SQL space? What degree or certifications do you have? Discuss this and more for your chance to win big!
Attending this session will give you the knowledge and tools to build your career as a SQL Server DBA or Developer. Opinions and personal working preferences will be shared – it's an opportunity you won't want to miss!
This #SQLChat will allow members from the SQL community to discuss SQL Server's biggest topics with IDERA product experts, and have a chance to win a giveaway prize. This month's giveaway prize is a Herschel Supply Co. Little America Backpack valued at $99.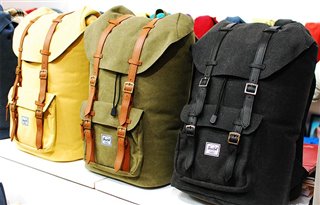 (photo taken from jebiga.com)
Here is how to how to participate:
Log into your Twitter account on April 5 and search for #SQLChat at 11 AM CT. @Idera_Software will introduce the presenters with a welcome tweet and announce the first question based around our chosen topic using #SQLChat. We recommend using TweetChat to follow along with the conversation. Presenters will then answer question through their personal Twitter accounts and @Idera_Software will retweet responses. Community members who are participating in the chat will also answer questions, and presenters and community members can then interact with each other (reply, favorite, retweet). The next question will be presented and so on… The chat will end at 12 PM ***Presenters and participants must use #SQLChat within each tweet to become part of the chat and be entered to win the giveaway prize.
*Everyone who sends out a tweet with #SQLChat between 11 AM CT and 12 PM will be automatically entered into the giveaway. The winner will be chosen at random. Please be sure you are following @Idera_Software as the winner will be notified through direct message.
About Jim: Jim is the Cloud Database Administrator for TeleTracking Technologies located in Pittsburgh, PA. He is passionate about Healthcare Technology, SQL, and video games! A former United States Marine, he stays active in his local VFW. He has been working with SQL Server for 10 years. He manages the In-Memory Virtual Chapter for PASS.