We are delighted to announce the general availability of Workload Analysis for SAP HANA.
Workload Analysis for SAP HANA provides a granular breakdown of SAP HANA metrics with easy drill-down for isolating problems quickly. It delivers valuable real-time and historical data to tune SQL statements. Its dashboard displays trending database activity and top resource utilization to identify problems and develop resolutions.
Here are some of the highlights:
Simple web-based dashboard
Workload Analysis for SAP HANA provides a single customizable web-based dashboard with an overview of statistical analysis and activity trends of all SAP HANA instances. Quickly drill down into the details of the captured performance metrics to pinpoint problems.
Focus on real-time database performance monitoring
Workload Analysis for SAP HANA focuses on fast, granular, real-time monitoring and analysis of database performance. It displays problematic SQL statements, statistics for performance, and heavily used components.
Quickly navigate comprehensive performance details
Show details for the top monitored instances, hosts, services, users, and SQL statements for a selected time interval. View trends for waits, response times, CPU and memory use, and memory distribution. In sortable tables, list top users and memory consumers. Display a summary of durations and counts, and the full text of SQL statements.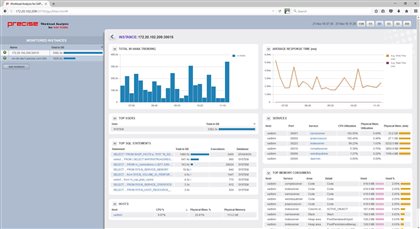 Tune performance issues
Optimize SAP HANA databases and applications to reduce costs and improve performance. Quickly detect, resolve, and prevent performance and availability problems via an automated and targeted analysis.
Easy timeline display
Workload Analysis for SAP HANA shows graphical information for a user-defined period. Zoom in by dragging with the mouse over a graph to define the area to view in detail. Graphs displaying current information showing the last 30 minutes of data in maximal granularity and refresh every 1 minute.
Agent-less and low impact
Workload Analysis for SAP HANA monitors SAP HANA instances remotely from a dedicated framework machine. It is agent-less and does not install additional services, databases, tables, extended stored procedures or anything else on the production systems. This simple architecture significantly reduces server footprint, simplifies the installation and upgrade process, and eliminates risk to the performance of the monitored SAP HANA instances.
For more information, refer to https://www.idera.com/sap-hana-monitoring.
Download and install your free 14-day trial from https://www.idera.com/sap-hana-monitoring/freetrialsubscriptionform.