It's time for CodeRage 2019, but we are making some changes to it this year to take advantage of the virtual nature of the conference. This will make it more flexible for attendees in different time zones and attract a greater diversity of content.
I did create a blog post about CodeRage recently (please read it if you haven't already), but I didn't send the call for sessions, yet.
Share the excitement: #CodeRage2019 https://embt.co/CodeRage2019
[Submit Session Proposal] [Submit Session Materials]
This is the official call for sessions.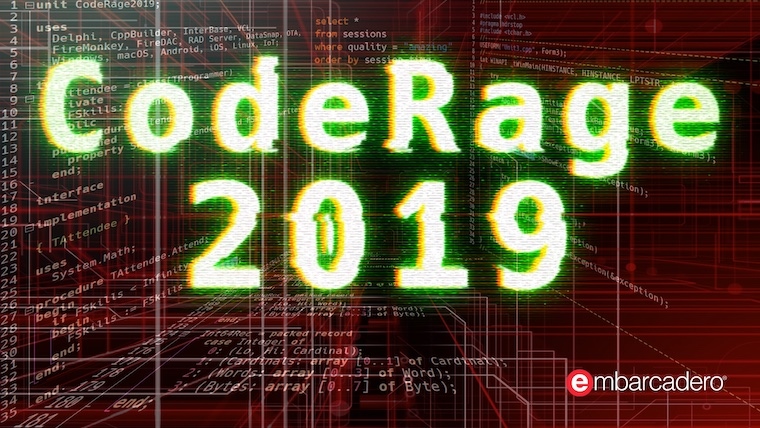 The bad news is CodeRage 2019 starts NEXT WEEK! We are doing a different series / topic each week, with next week being InterBase. The good news is we are looking for short, 5 to 10 minute videos. The idea is something you can put together in one take with very little or no editing.
At the start of the week, all the videos on the topic will be made available. Attendees can watch the videos on their own schedule during the week, and submit any questions they have. Then at Noon, Central Time, on Thursday everyone is invited to join a round-table Q&A conversation with any presenters who are able to be there. Submitted questions will be discussed, during a conversation around the topic.
Please pick a few topics that you are interested in and submit a few sessions. You can just create a short video showing your favorite feature, run through one of the samples, or demonstrate how to do something really tricky. It doesn't need to be simple, but you don't need to cover everything in the short video. Provide a link to a blog post, paper, DocWiki article, code repository, or Wikipedia article. You can even link to a longer video that goes into more detail.
Don't speak English? That is fine. Create your video in your native language and include subtitles in your native language along with an English translation (and any other language you want). We can help clean up the English translations. Then viewers will have the option to watch with the subtitles of their choice. If you really can't do audio (like no microphone), then you can just put English text on the screen explaining what you are doing – even if you just open a notepad with a large font.
We want to be really flexible this year, so be creative and pick a week. If you can't fit into one of those topics then we will have an "Other" category, but do try to fit it into one of the categories.
Important details:
Duration: 5 to 10 minutes
Resolution: 1920×1080 is recommended, but not larger (not everyone has 4K monitors).
All videos must be provided before the series states. No later than Sunday!
Make sure your text is easily readable (might want to use a larger font).
Keep in mind some people will watch on their phone and might not have as good of eyesight as you do.
Keep it short! Just talk about a specific topic and do a demo.
Recommend that you provide accompanying resources, like slides, a blog post, code, etc.
If you can't attend the Q&A please submit anyway
[Submit Session Proposal] [Submit Session Materials]
Because of the more open and flexible nature of CodeRage this year please assume your session is accepted after you submit unless you hear otherwise. So you can start work on your session immediately.
[Download the PowerPoint Template and other assets]
You can use this slide template or any other
Use as few or as many slides as you need (no slides is fine, and just slides is fine)
Please make sure https://embt.co/CodeRage2019 and #CodeRage2019 are included in your slides
The goal is to make a short video that covers the most interesting bits. Be sure to provide a link to additional resources like code, a blog post, an article, a paper, DocWiki page, etc. If necessary you can create a longer video that you link to from the shorter one.
You can host the linked content yourself, or submit it with your video for us to host.

If you do host it yourself, make one page that links to everything else. Be aware of complicated URLs and use a service like Bitly.com if necessary to make a customized short URL
Most videos should be 1920×1080, but other resolutions are fine if they work better for you. Make sure you don't go any larger than 1920×180 since that may result in text/screens that are too small (Some people will watch on their phones!) If your system is High-DPI then be sure to increase your font size or reduce your screen resolution.

Preferred language for the videos is English, but if you can't or rather not do English then you can provide English subtitles with your video. If you need help with subtitles then contact us in advance.
I use Camtasia to make my videos, but you can use whatever tools you like. OBS is free and has an option to record your screen, then KdenLive and OpenShot are free video editors. Hopefully you don't need a lot of editing.

Note: if you use the free trial of Camtasia you can't render a video, but you could export the Camtasia project as a ZIP file (or Export for Windows from the Mac) and we can do the final render for you.

Generally you can use the default render settings in whatever software you use. If you have the choice we prefer an MP4 file.
Double check your video before uploading – it should be short, so easy to review the whole video. Make sure the audio is clear and loud enough.
Share the excitement: #CodeRage2019 https://embt.co/CodeRage2019