Italian translation of Cool Apps Get Even Cooler!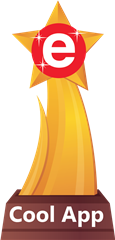 Tutti parlano sempre di quelle altre fantastiche applicazioni (cool Apps) sviluppate con Delphi o C++Builder. A volte vengono annunciate pubblicamente, altre volte le aziende vogliono tenersele come un'arma segreta. L'ispirazione procurata da questo tipo di storie acquisisce sempre più valore, man mano che cresce la nostra comunità di sviluppatori. Comprensibilmente, tutti voi siete impegnati e fare una divulgazione al pubblico potrebbe richiedere ulteriori approvazioni. Ma sono sicuro che potete vedere il valore di ispirare così tanti nuovi sviluppatori.
Fino a poco tempo fa avevamo il concorso "Cool App Contest". Il problema con quest'ultimo è che, in alcuni mesi, abbiamo ricevuto così tante fantastiche applicazioni che non sapevamo più quali dovessero "vincere". Ora vogliamo estendere la definizione di Cool App. Molte applicazioni precedenti si sono concentrate sul prodotto completato e l'interfaccia utente attraente. Questo può essere un importante fattore ma sappiamo che esiste altrettanta arte nelle potenti funzionalità e nell'affidabilità quanto nella costruzione di un'interfaccia utente accattivante. In futuro, le Cool Apps non dovranno concentrarsi solo sull'interfaccia utente o sull'essere visibili.
Oltre a condividerli sui blog e sui social media, ne esporremo alcune in altre parti del nostro sito. Niente è meglio delle applicazioni reali per mostrare la potenza di RAD Studio.
Inoltre semplifichiamo anche il processo di candidatura delle cool Apps. Basterà soltanto inviare una breve descrizione della propria applicazione e 3-4 schermate o un link a un video YouTube con una demo. Se l'applicazione è "non visiva", sentitevi pure liberi di aggiungere ulteriori descrizioni e se lo desiderate, includere uno frammento di codice, un diagramma, o tutto ciò evidenzia l'ingegnosità della vostra soluzione. Inviate le vostre candidature a coolapps@embarcadero.com oppure potete usare questo modulo per guidarvi attraverso il processo.
Reintroduciamo questo concorso con una app davvero forte!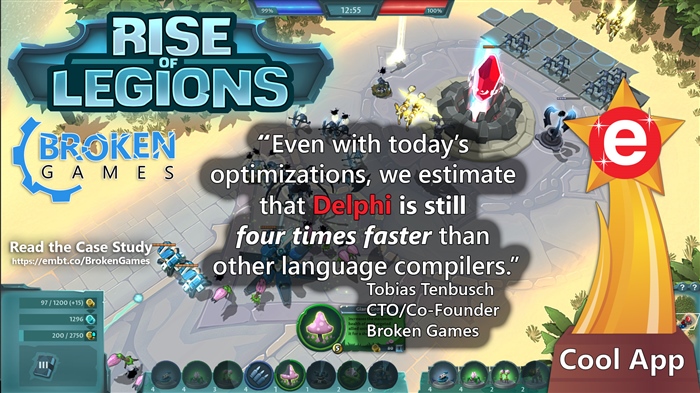 Rise of Legions è un ibrido di MOBA (tower defense e deckbuilding). Sono un grande fan dei giochi deckbuilding e tower defense, ma il termine MOBA (Multiplayer Online Battle Arena) mi era nuovo. Rise of Legions fa parte dei free-to-play (giochi gratuiti) su Steam costruiti con Delphi e FireMonkey. È un gioco divertente, ci ho giocato per un po' e ho persino approfittato dell'acquisto in-app.