French translation of Cool Apps Get Even Cooler!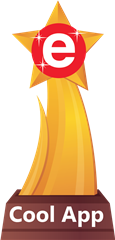 Tout le monde parle sans cesse de ces autres applications qui sont développées avec Delphi ou C++Builder. Quelquefois, on l'annonce publiquement, d'autres fois, les entreprises préfèrent le garder comme une arme secrète. Avec la croissance continue de notre communauté de développeurs, il y a de plus en plus de valeur dans l'inspiration que ce genre d'histoires procure. Naturellement, vous êtes tous très occupés et faire une divulgation publique peut nécessiter des approbations supplémentaires. Je suis persuadé que vous comprenez la valeur qu'il y a à inspirer tant de nouveaux développeurs.
Précédemment, nous avons eu le concours Cool App. Le problème avec cela c'est que certains mois, nous avions tellement de superbes applications que nous ne savions pas lesquelles devraient "gagner". Maintenant, nous voulons mieux définir ce qu'est une Cool App. Beaucoup d'applications précédentes se sont concentrées sur des produits finis et des interfaces utilisateur attrayantes. Cela peut être un excellent facteur d'émerveillement. Nous comprenons qu'il y a autant d'art dans la puissance de la fonctionnalité et la fiabilité que dans la construction d'une interface utilisateur attrayante. À l'avenir, les Cool Apps n'ont pas besoin de se concentrer sur l'interface utilisateur, ni même d'être visibles.
En plus de les partager sur les blogues et les médias sociaux, nous en afficherons quelques-unes dans certaines pages de notre site. Rien de mieux pour démontrer la puissance de RAD Studio que des applications réelles.
Nous simplifierons également un petit peu le processus de Cool Apps. Vous n'avez qu'à soumettre une courte description de votre application et 3-4 captures d'écran ou un lien vers une vidéo YouTube avec une démo. Si l'application n'est pas visuelle, n'hésitez pas à en décrire davantage et si vous le voulez, inclure un extrait de code, un diagramme, ou tout autre élément qui souligne l'ingéniosité de la solution que vous proposez. Veuillez envoyer vos soumissions à coolapps@embarcadero.com ou vous pouvez utiliser ce formulaire pour vous guider dans le processus.
Nous relançons cette série avec une application vraiment cool !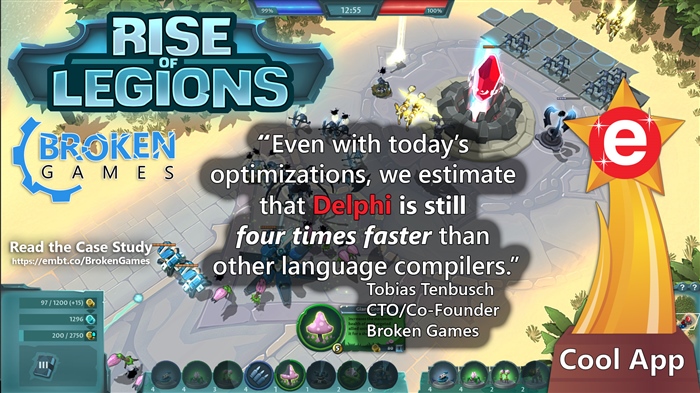 Rise of Legions (par Broken Games) est un hybride de MOBA, la tour de garde avec Deck-building. Je suis un grand fan des jeux de Deck-building et de tour de garde, mais je ne connaissais pas le terme MOBA, qui veut dire Multiplayer Online Battle Arena. Il est gratuit de jouer sur Steam et est construit avec Delphi et FireMonkey. C'est un jeu super sympa, on y a joué un petit moment, et on a même profité de l'achat in-app.