In RAD Studio 10.2.2, we have made some changes to the installer that should make installation a much nicer experience.
License Manager
When installing RAD Studio (or just Delphi or C++Builder), unless you are upgrading you will often be asked to enter a license code. This dialog used to look rather outdated, and in 10.2.2 it now looks like this: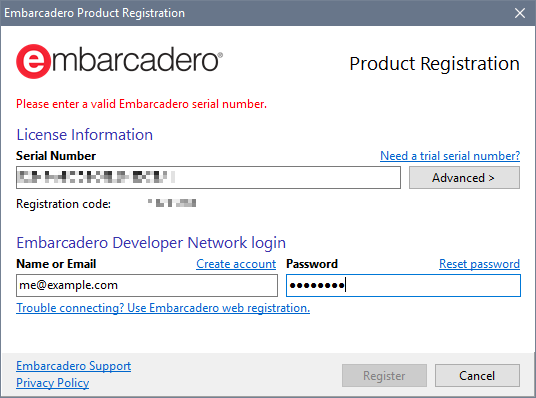 You can see that the layout still contains the same elements, but with a white background, Windows-style headings and fonts, and overall a more modern design.
GetIt Installer
When installing via the GetIt (network) installer, after the minimal base IDE is installed it hands over to the Platform Selection dialog.  You can also invoke this from inside the IDE itself via the Tools > Manage Platforms menu.  This allows you to install platforms as and when you choose, and is a really nice aspect of the lightweight and fast GetIt installation.
In the past, this had a bright blue colour, which was very nice but was starting to look outdated.  It also had a few graphical glitches.  In 10.2.2, this dialog now looks like this: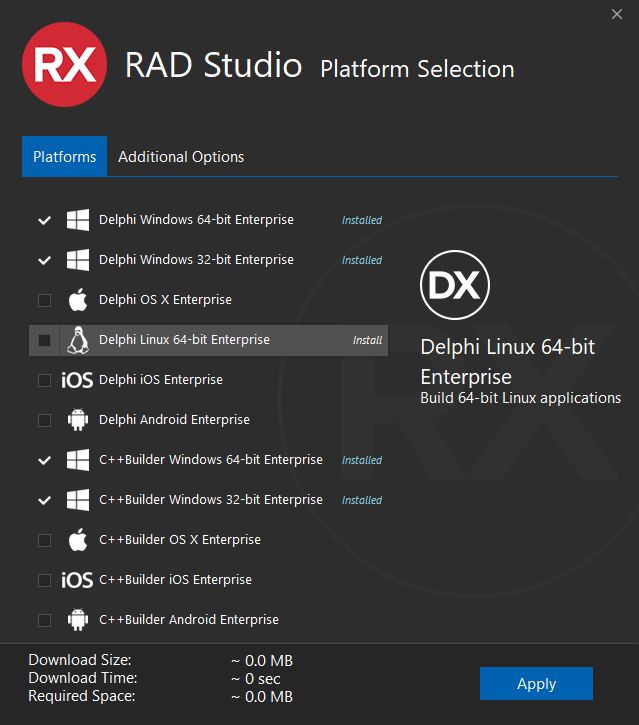 You'll notice it takes some cues from the IDE's dark theme, using a dark charcoal background and blue highlight elements.  It also has had layout tweaked, images refreshed and are sharp and clear, elements like drop shadows removed in favour of flat mouseover highlights or just having an item checked, and overall looks much nicer.
In addition, we've solved a number of quality issues that could affect installation.  The ones you were most likely to encounter were network errors where the installer prompted you to retry.  All are solved!
Overview
These are largely UI changes, but are overdue and really affect the experience and first impressions of installing RAD Studio.  It's important to us that the experience of using RAD Studio – the UX, user experience – is high quality.  This is not just UI look and feel but features and quality as well, so you will see ongoing improvements in fundamental areas of the IDE in parallel to the cosmetic improvements.