What is the Windows Runtime (WinRT)?
Introduced in Windows 8
Default program interface
Object Oriented API
Native Code API
Does not replace Win32
Not part of .NET
Not managed code
Not a tablet version of Windows (WindowsRT)
Only way to access some features of Windows 10
Asynchronous
Notifications in Windows 10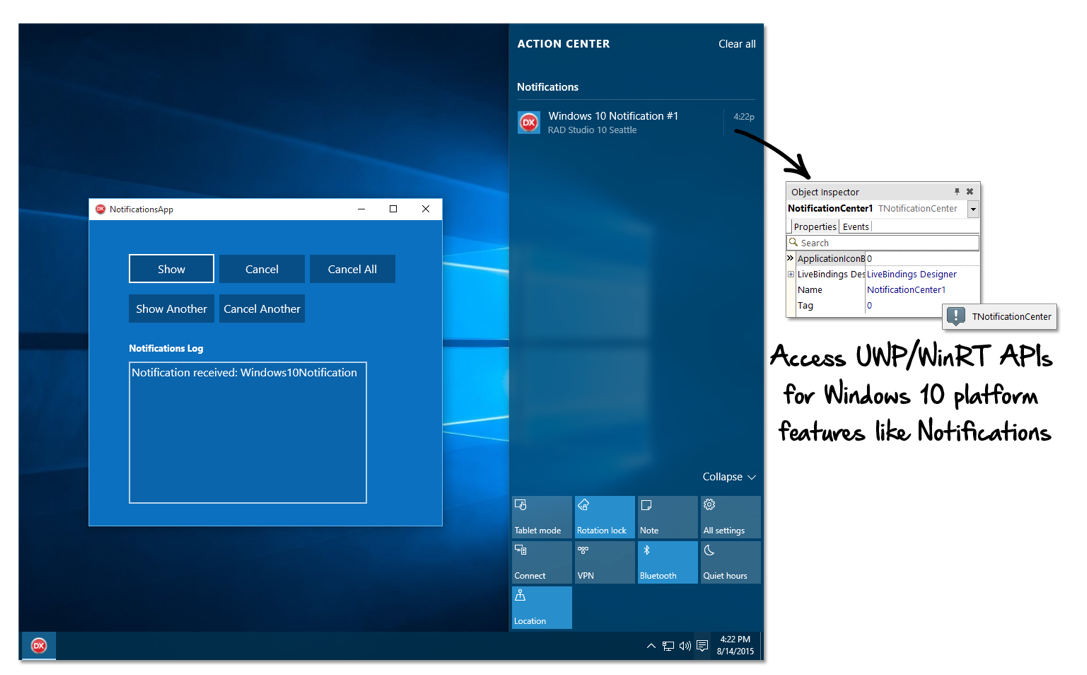 Moved to System.Notifications
Works with VCL, RTL and all app types
Immediate or scheduled notifications
Start menu shortcut required to relaunch app
Share Contract on Windows 10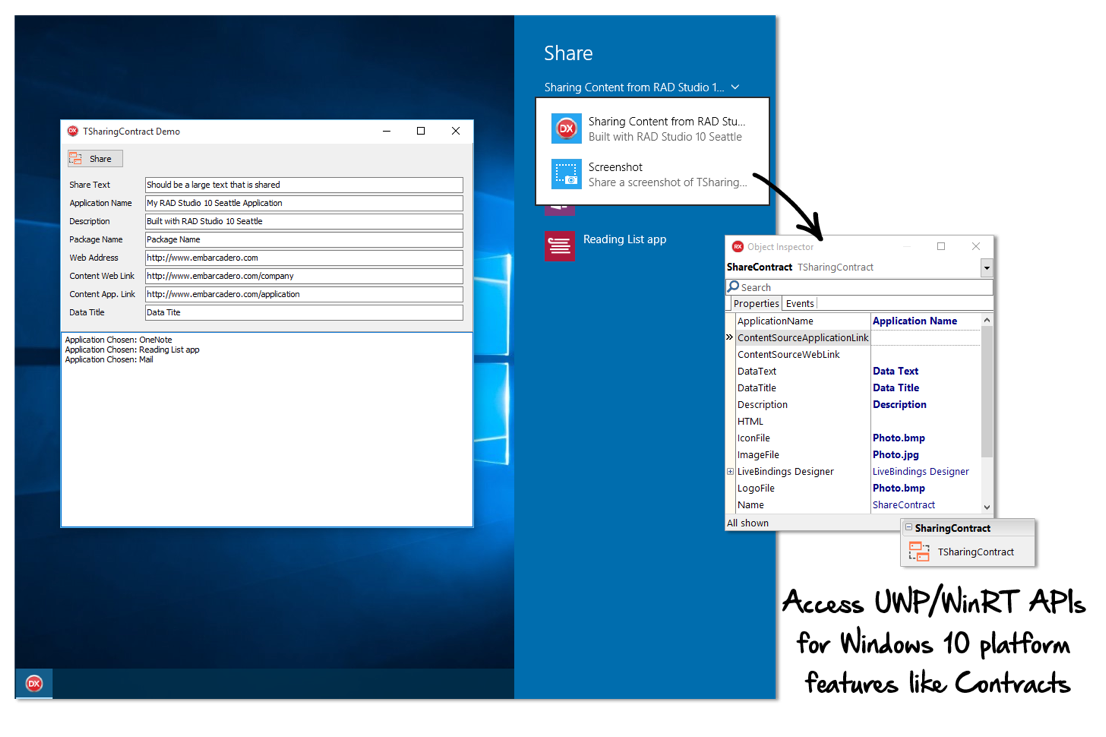 Share content to other apps
Act as a source
Share text, images, links, etc.
Share to email or other apps
Include meta information: titles, building and attachments
TSharingContract (VCL) or TShareContract (RTL)
Windows Runtime (WinRT) API Interfaces
WinRT Interfaces found in source\rtl\win\winrt folder
Referenced by Interface for automatic reference counting
Helpers like TWindowsString in System.Win.WinRT
Many classes have default parameterless constructors
Use .Factory to access other constructors
Use .Statics to access static members of class
Windows 10 UI/UX Elements
VCL & FMX Styles
VCL Controls

TActivityIndicator – Similar to FMX TAniIndicator
TRelativePanel – Controls position based on relative position
TSearchBox – Used to manually search or filter other controls
TSplitView – Similar to FMX MultiView
TToggleSwitch – Similar to FMX TSwitch
FireMonkey Platform Native Rendering Architecture
Currently available on iOS and Windows (version 7+) http://embt.co/fmx_native_win_controls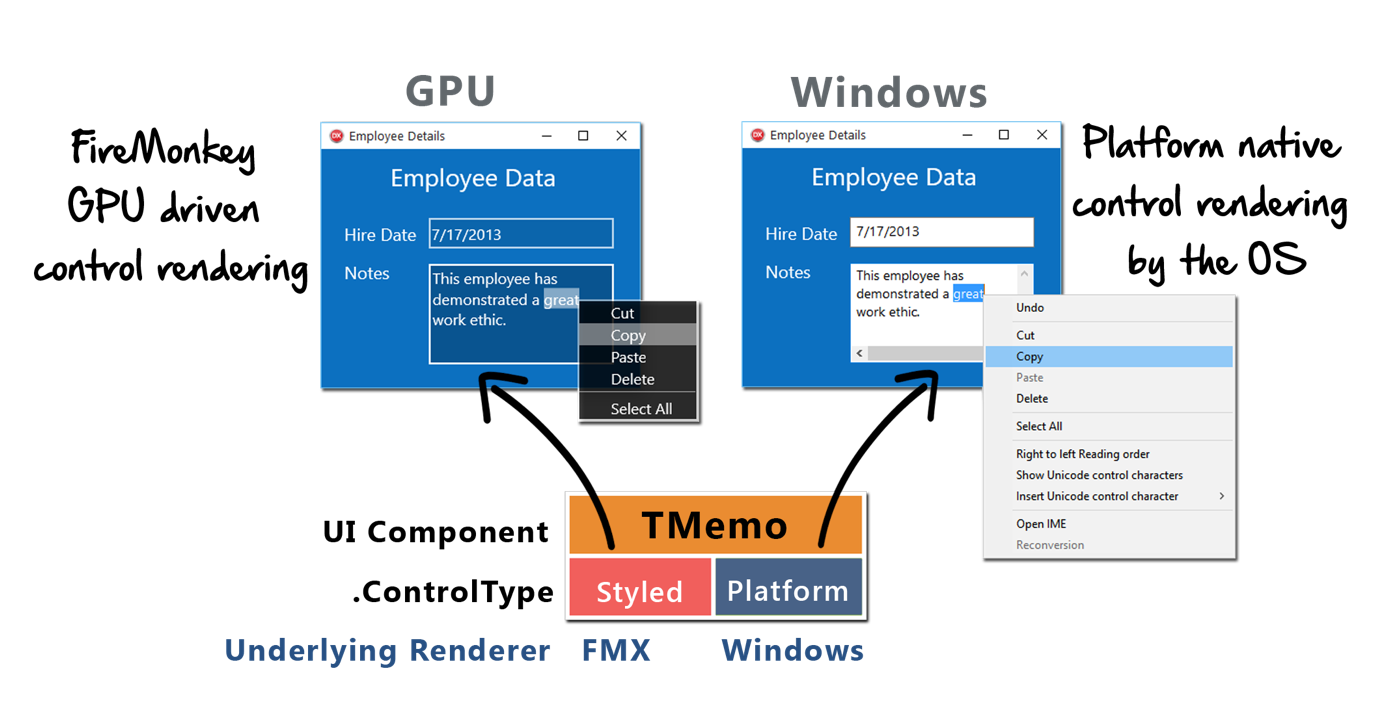 FireMonkey Windows 10 Styles
VCL Animated Activity Indicator
TActivityIndicator in Vcl.WinXCtrls
Similar to FMX TAniIndicator
Customizable

Three indicator types
Four sizes
Two colors
Adjustable frame delay
VCL Relative Layout Panel – TRelativePanel
Controls position based on relative position
Set position via ControlCollection
Find child control with IndexOf()
Or at design time use properties

Align[xx]WithPanel: Boolean
Above: [Sibling]
Align[xx]With: [Sibling]
LeftOf: [Sibling]
VCL SearchBox – TSearchBox
Includes search indicator

Text and Audio indicators

Has OnInvokeSearch event
Used to manually search or filter other controls
See also FMX.TSearchBox
VCL Split View – TSplitView
Similar to FMX MultiView
Adjustable behaviors, placements and style
Can contain any other controls
Animated expand and collapse
VCL Toggle Switch – TToggleSwitch
Similar to FMX TSwitch
Custom captions
Custom colors
Resizable elements
Disabled and Read-Only

Property State: tssOn or tssOff
Function IsOn: Boolean
VCL Windows 10 Styles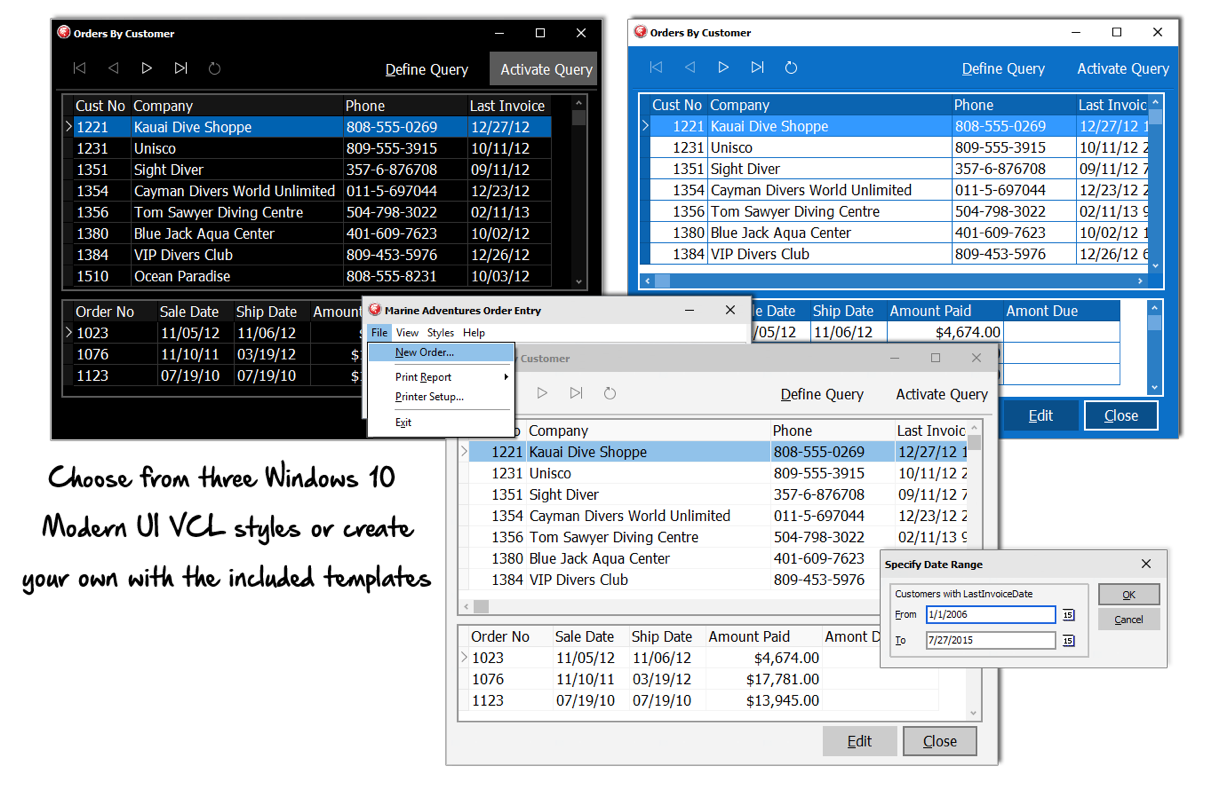 http://embt.co/vcl-styles-overview
C++Builder Windows 10 WinRT Headers
Available via GetIt http://embt.co/getit-manager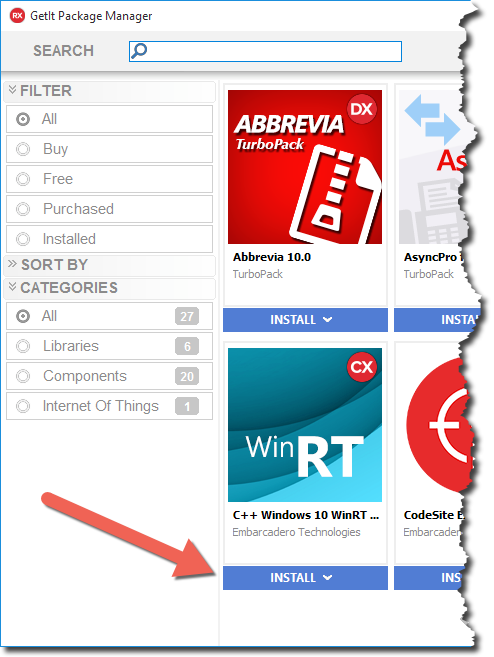 What is Universal Windows Platform (UWP)
Mostly a marketing term (overloaded meaning)
Apps built with WinRT
Full access to platform
Allows for Windows store distribution
Sandboxed execution/user safety
Automatic updates
Requires universal AppID
Project Centennial will bridge Win32 to UWP
Learning Resources
Replay coming soon.
[DownloadButton Product='Delphi' Caption='Download the trial and follow along!']