In recent years, there has been a re-awakening, with organizations recognizing the importance of data not only as an operational imperative, but also as a strategic asset. However, managing and harnessing the power of data is becoming increasingly complex.
The data that we generate is growing more quickly than our ability to manage and control it, yet we have an unquenchable thirst for more. In parallel data breaches
breaches and misuse are also on the rise, threatening our privacy and well-being.
Other exposures occur due to errors or lack of awareness.
Thus, lawmakers regulate in an attempt to control the problem, often levying financial penalties.
Data security and privacy regulations like GDPR, HIPAA, and SOX are driving corporate behaviors around protecting the personal information. There are multiple aspects that come into play and need proper handling to ensure compliance. GDPR in particular includes a directive to incorporate "privacy by design and default." This makes perfect sense, as it is something that organizations should be doing whether there are regulations compelling them to do so or not.
To avoid huge fines, companies must demonstrate compliance to these regulations. It's important to address any incorrect assumptions your organization may be harboring. Make sure you fully understand which regulations do apply to you, how they will affect the way you do business, and what the impact is for non-compliance. You will need to verify that the safeguards you have in place are indeed sufficient, rather than assuming they meet the requirements. The regulations themselves do not ensure data privacy – it is imperative for each company to proactively implement the appropriate protections.
To address this, we require a solid data architecture foundation in order to support the pillars of enterprise architecture. In turn, the entire structure is required to enable data governance.
Data modeling is the cornerstone of data architecture, representing all data structures and associated meta-data.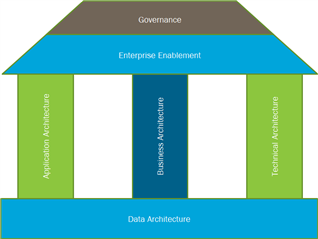 Business glossaries provide additional context, through specification and linking of business vocabulary and definitions, applicable regulations. policies, and reference data to applicable data and process elements, forming a network of crucial information.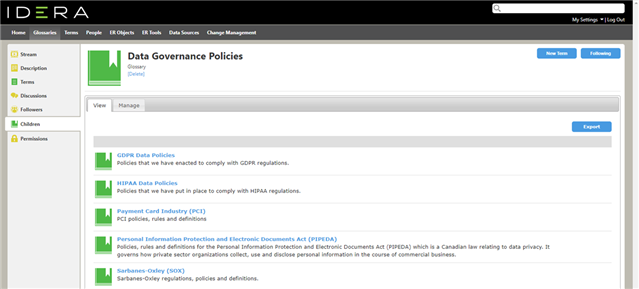 By leveraging
ER/Studio Enterprise Team Edition
as a collaborative solution with fully integrated metadata and visual models, businesses can create a global perspective of their vital meta-data, from business processes to data models, with data lineage and business glossaries aligned and applied across the enterprise.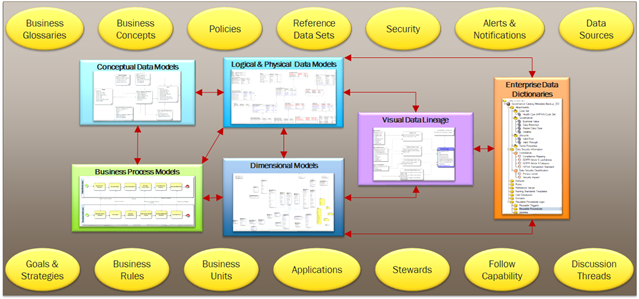 With many different pieces of information that must be protected, it is essential to know how data is collected, what data is kept and where, and how it is managed and used. Business processes and data lineage document these data flows along with the data owners and users within the business. Data classification is used to specify which privacy laws affect which data, and access permissions should be clearly defined.
Organizations must establish governance to address multiple data privacy regulations with varying complexity and impact. The integrated enterprise data architecture incorporates data modeling, process modeling, data lineage, and metadata collaboration for a global perspective across the business. This will help to establish a culture of data awareness and prevention by which everyone within the business can conduct themselves, each and every day.
On February 27, 2018, I presented a DATAVERSITY webinar on this topic, which can be found
HERE
. Watch the entire webinar replay to hear more on this topic.
Request a demo
to learn how
ER/Studio Enterprise Team Edition
can help you define your enterprise data architecture and enable your data governance strategy for regulatory compliance.