Cloud management provider Rightscale has released their second annual State of the Cloud Report, a survey of 930 technical professionals. It is full of interesting information about cloud adoption, like:
93% of organizations are running apps on or experimenting with infrastructure as a service
88% are using public cloud and 63% using private cloud
IT organizations are starting to take the lead in cloud implementations and create self-service portals for their customers
DevOps adoption rises to 71% of organizations
In general AWS is #1 (57%) and Azure IaaS is #2 (12%), but the gap is narrower in the enterprise space. vCloud Air is in third at 10% adoption among enterprises.
Private cloud adoption has stalled, same rate as last year
Docker, the new containerization technology, is on fire, coming from nowhere to be the single most cited too; (13% use today, 35% plan to use)
The report has a lot of interesting detail in it. One of the best is showing how the benefits people are reaping from cloud adoption grow with their cloud maturity level: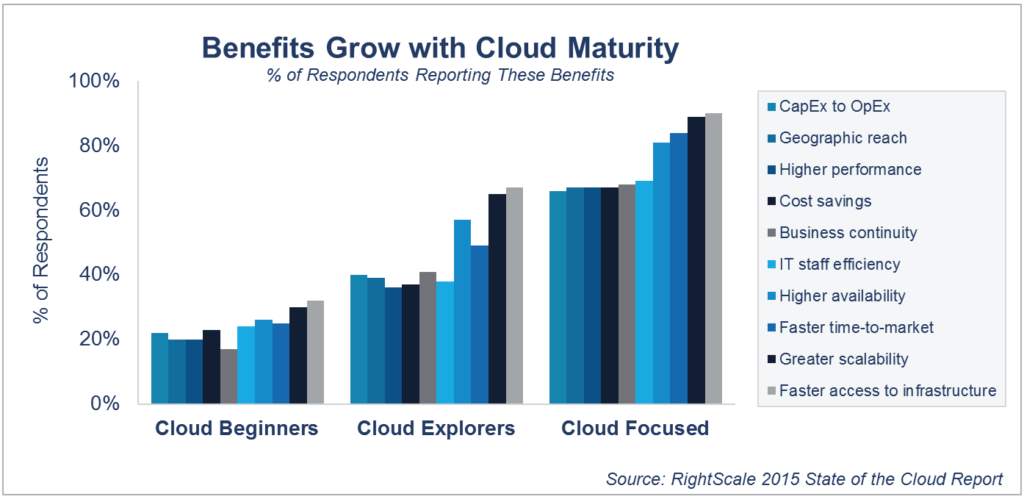 Across Idera's product offerings, we continue to look to add cloud support as customers are ready to uptake it.
And that's where you come in! Here's a survey asking about what you are using the cloud for, and what technologies you'd like help monitoring there. Please let us know where Idera's products could help you be successful in the cloud.