Hippie ducks are here for a limited time only!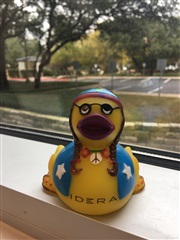 Do you follow us on Twitter (@Idera_Software)? The first 100 people to follow us on Twitter in January will receive a free, limited-edition Hippie Duck!
Please fill out this form to receive your Hippie Duck: Duck Form
The IDERA Twitter Handle is a free resource for industry news, product updates, IDERA contests, networking, duck pictures and more. Follow us to start participating in valuable conversations.