We are pleased to announce the availability of the Aqua Data Studio version 19.0 release. This release greatly enhances several areas of the product.
You can now

view explain plans

for

NoSQL

data warehouse platforms, like Hive, Spark and Impala.

Gain

faster insights to your data

with the enhancements to the visual analytics tool.

Ability to share workspaces, thereby increasing collaboration and usability in team environments

Enhancements to Aqua Data Studio's

filtering capabilities.

Allowing users to quickly analyze their data and gain insight through data visualization

Our new combined fields offer a quick and convenient way of combining multiple fields in a single dimension

Copy your data from the UI to a Web or desktop application without loss of your formatting and key indicators

Our new table definition returns the number of rows in the partition

PDFs are now exported in native format which results in smaller file sizes and reduced export times when exporting large data sets

We have added

significant usability and functional enhancements

to our window docking framework.

Several new viewing modes are available

New orientation styles

Management of panels has been greatly enhanced throughout the product

Data synchronization capabilities

were added to three additional database platforms:

MySQL, PostgreSQL and Sybase.
MongoDB

support has been greatly enhanced.

Collation support has been added to Collections, Views, Indexes, and ER Modeler Property dialogs

Full support for database views
Aqua Data Studio improves productivity for Database Developers, DBAs, and Analysts. It allows you to develop, access, manage, and visually analyze data. Whether you are working with relational, NoSQL or cloud databases, your data is easily and quickly accessible with Aqua Data Studio. It supports all major database vendors, works on all major operating systems and is localized to 9 languages.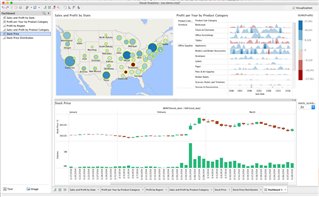 See What's New in version 19.0 by going to the following link below:
https://www.aquafold.com/aquadatastudio_whats_new
Register for a Live Demo Webcast by clicking on the link below:
https://attendee.gotowebinar.com/rt/8570402157760933122
Download the White Paper – Improving daily life of a database developer below:
https://www.aquafold.com/aquadatastudio_resources/whitepaper-improving-daily-life-of-database-developer