We are pleased to announce the general availability of SQL Inventory Manager 2.2. Existing users may upgrade to this version through the Idera Customer Portal. New users may download the trial version from the Idera Website.
What's New in SQL Inventory Manager 2.2?
Core Licensing Information – Additional SQL Licensing information to support Microsoft Core Licensing (available starting with SQL Server 2012) such as:

number of cores
core factors
possible core licenses
checkbox for virtual instances that are fully licensed through physical server with Microsoft Software Assurance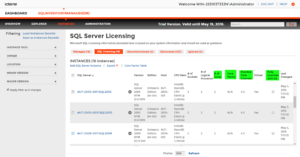 Core Factor Table – Core Factor Table is provided by Microsoft to calculate the possible core licenses.  Users will be able to check for updates to the core factor table and apply the updates as needed.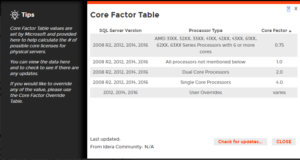 Changes to Health Checks – By default the health checks and recommendations are set using default values.  With SQL Inventory Manager 2.2, we allow users to change the thresholds for three health checks:

Database not backup – user should be able to change the threshold when the critical and warning alerts are thrown.  In addition, user can exclude non-critical databases from this health check.
Server is down – user can change the threshold when the alert is thrown for when the server is down.
Server is slow – user can change the threshold metric used to measure if the server response is slow.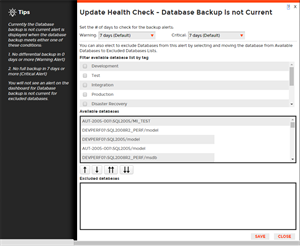 Enhancement to custom inventory fields – we now allow the user to add a blank or null selection for pick list.
Support for SQL 2016 – SQL Inventory Manager 2.2 is SQL Server 2016 compatible. IDERA provides experimental support while you use your installation in a testing environment to ensure the features you rely most are working as or better than expected.
User Interface Improvements – Technical improvements to enhance the responsiveness of the user interface
Discovery Enhancement – Improvement to IP Range Discovery Scan