We are pleased to announce the general availability of SQL Inventory Manager 2.3. Existing users may access through the Idera Customer Portal. New users may download the trial version from the Idera Website.
New Product Capabilities
Patch List View
Our new Patch List View, available in the Instances section, allows users to keep database server hotfixes up to date – easily! Users may access a list of all their database servers, what patch version they are running, and easily click to view and access available hotfixes.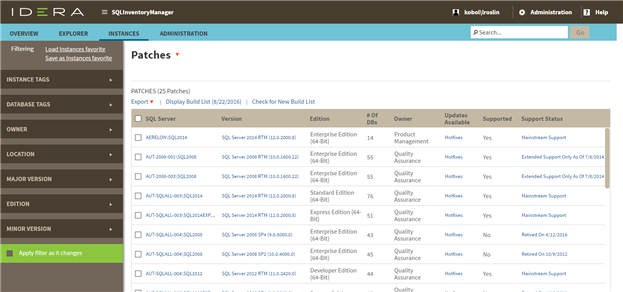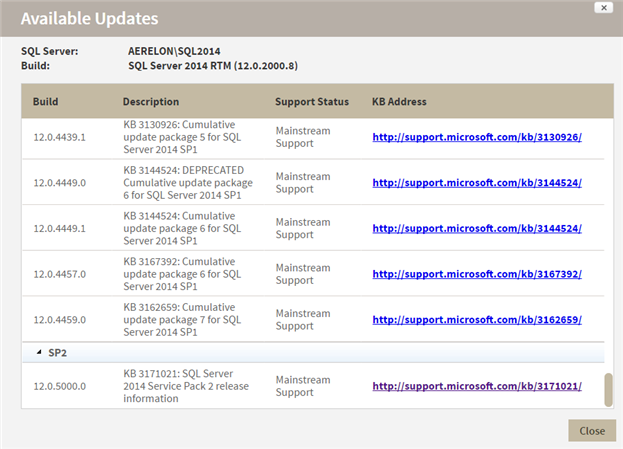 Availability Group Support
We support highly available environments with the ability to View AlwaysOn Availability Groups. Primary and secondary nodes, as well as listeners, are now visible in SQL Inventory Manager for databases operating in Availability Groups.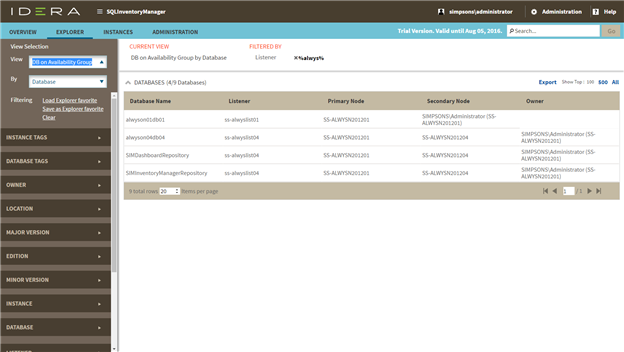 Configurable Health Checks
Long-requested by users and now available, Configurable Health Checks allow users to customize the health checks to better reflect the norms and expectations of their unique environment.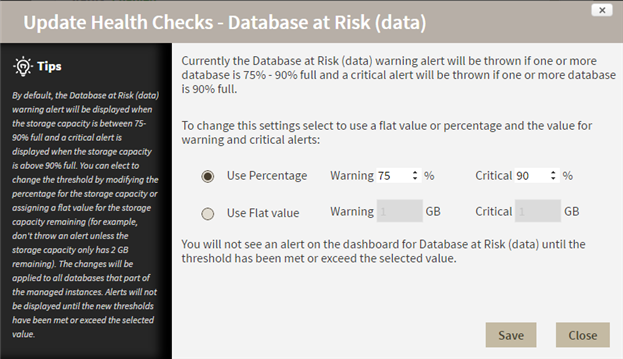 Discovery Improvements
Discovery continues to be an important aspect of inventory management for our customers and prospects, and as such we have continued to make improvements in this area.

BI and Reporting Service Discovery

shows users where BI services are running in their environment. This helps users keep track of the infrastructure external to the database servers themselves that they may need to bring under management.

Discovery at the Organizational Unit (OU) Level

allows users to specify narrower slices of their domain for discovery, which is valuable in large, complex, or highly secured environments where broader discovery may cause problems.

The new

Exclude Filters on Domains

allow users to prevent SQL Inventory Manager from running discovery on domains which are known to be not relevant or not appropriate for discovery scans.
Improved Dashboard Experience
We have deepened our integration into to IDERA Dashboard with improvements to cross-product functionality and look and feel.
The fresh

Modernized UI will be the most visible feature to all users, showing off our new IDERA green and improving the user experience across the product.


Cross-product workflows are becoming a reality with support for

Global Tags

, allowing users to promote tags to be available and coordinated with products outside of SQL Inventory Manager itself.

We have a newly

Simplified Installer

for both SQL Inventory Manager and the Idera Dashboard.
Questions or comments? Let us know in the SQL Inventory Manager forum.