We are excited to welcome Webyog into the Idera, Inc. family!
In an effort to streamline all social media accounts, we are transitioning Webyog and Monyog social media handles over to IDERA. By following the IDERA handles, you will receive the latest Webyog product updates and announcements.
And that's not all! Everyone who follows @Idera_Software on Twitter between August 17, 2018 and August 31, 2018 will be entered to win an Amazon Tap!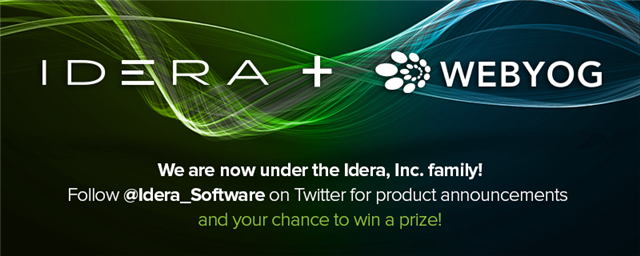 How to Participate:
Log onto your Twitter account between August 17 and August 31 and follow @Idera_Software. You must be a new IDERA twitter follower to be entered to win an Amazon Tap. A winner will be chosen at random on August 31 and contacted through direct message on Twitter.
Along with Twitter, you can receive Webyog company updates and announcements through IDERA's Facebook, LinkedIn, Google+ and Instagram.
You can read more about the SQL Diagnostic Manager for MySQL v8.7 release, rebranded from Monyog, in our blog here. You can also read our press release here regarding the expansion of our flagship SQL performance capabilities.